I wrote this 
I've been accused of focusing too much attention on the McNeils, and Marycrests, and John S. Parks, and Paradise Palms type neighborhoods of Vintage Las Vegas. In my own defense, I've talked about some of the "undiscovered" neighborhoods such as Mayfair, Francisco Park, Las Verdes and others.
But Kristen Peterson, writing for the Las Vegas Sun, tells a great story about a secret pocket of coolness on the north edge of Downtown.
This is where i started out in Las Vegas in 1985 with a vision of an "arts district" or a the least a Bohemian colony along Stewart and Ogden from 6th Street to Maryland Parkway. That didn't come to fruition since mostly I spent 8 years at the corner of Stewart and 10 fighting off the crack whores.
Kristen writes:
Normally if someone builds a gypsy wagon in his yard, outfits it with electricity, gas and plumbing, adds a titanium stove, a minibathroom and a grandfather clock, neighbors might raise a brow or two.

Some would hit the speed dial to their homeowners association.

But it's a matter of context.

At the Clark Cottages on North Seventh Street in downtown Las Vegas, the gypsy wagon blends in well with the Victorian streetlamps, the water fountains, the wind chimes and the 1940s music coming from one of the five bungalows.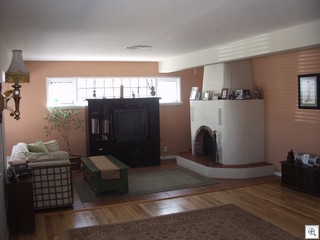 There's lots of little neighborhoods with fantastic location all around downtown. Some of them have always stayed nice, or are already well along in the gentrification.
Lots of them are yet to be discovered by the adventuresome or brave. I'm going to do some reporting in the next 2 weeks on some of those great pockets. I believe that the first one that's going to get discovered again is Mayfair, which sits in the triangle created by Fremont, Maryland Parkway and Charleston.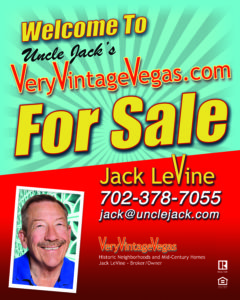 Jack LeVine has been trusted by well over a thousand clients in the last 27 years. He gets the job done – gets it done right. No other agent in Las Vegas has the depth of knowledge and experience that Jack has of the vintage neighborhoods, the mindset of buyers for 50 or 60-year-old homes, and the special things that dramatically affect the value of a vintage home.
If you want to sell (or buy) a Vintage Las Vegas era home – Call or email Jack LeVine of Very Vintage Vegas Realty – 702-378-7055 [email protected]