TBT – The Secret Square – Revisiting A Vintage Las Vegas Neighborhood That Should Not Be Forgotten
I wrote this in December 2007.  It is still a great neighborhood that gets overlooked by many when looking for Vintage Homes.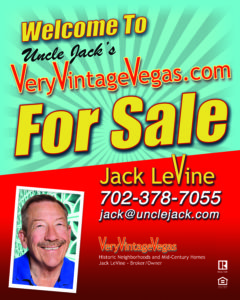 Jack LeVine has been trusted by well over a thousand clients in the last 27 years. He gets the job done – gets it done right. No other agent in Las Vegas has the depth of knowledge and experience that Jack has of the vintage neighborhoods, the mindset of buyers for 50 or 60-year-old homes, and the special things that dramatically affect the value of a vintage home.
If you want to sell (or buy) a Vintage Las Vegas era home – Call or email Jack LeVine of Very Vintage Vegas Realty – 702-378-7055 jack@unclejack.com