This is from February 26, 2008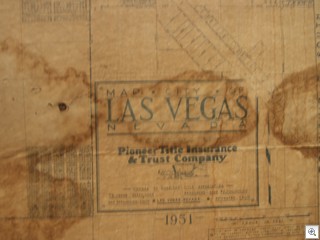 It's a funny thing about being the "newest" big city in America. Vintage in Washington DC or NYC or Philly, dates back to revolution. In St. Louis or Columbus, Denver or Seattle, Or San Francisco, it's 1900!
But Vintage Vegas? 1950!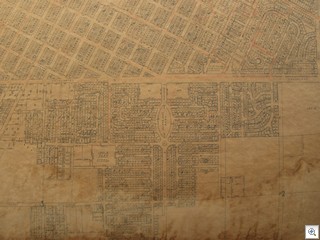 Buried deep in the catacombs of Mary's house, we found a huge wall sized plot map of Las Vegas from 1951. My house isn't there. Some of McNeil shows up along Ashby, but Glen Heather, and Paradise Palms, and Rancho Bel Air, and Rancho Nevada aren't there at all, yet.
Scotch 80's and Huntridge and Charleston Square have proudly raised their heads already. Alta Vista and Southridge show up. But there's no Marycrest, or Crestview or Morning View Heights.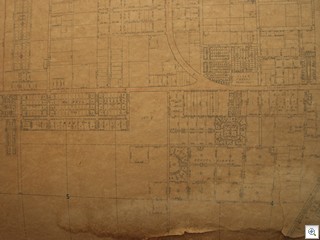 Our resident VVV historian Brian Paco Alvarez has offered to help us get the 6 foot by 8 foot map remounted at least if not fully restored. We'll certainly keep you posted as it progresses.
Like most photos on Very Vintage Vegas, these are clickable thumbnails, and I'm betting you'll get as much of a kick out of studying them as I did.