This Throw Back Thursday is from May, 2011 but seems fitting today with all the things going on with Circle Park lately.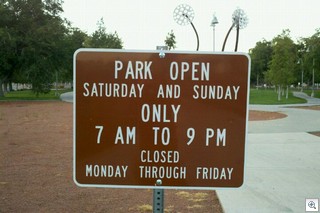 BIG NEWS!
I'm 2/7th happy that the Huntridge Circle Park will be opening again – at least on weekends.
Bob Coffin, who I am supporting for the Las Vegas City Council will bringing donuts at 10am on SUNDAY MORNING May 29. Please come out to support him and the park.
Others are calling for picnic at 11 on Saturday. This isn't officially organized yet, but as the word spreads, I'm sure it will turn into something big.
There's plenty of comments flying on the Huntridge Circle Park facebook page. Be sure to "like" it.
Bring the dog, bring the kids, bring some food, bring a frisbee.  Let's show them how 2/7th happy we are.
One important note is that NO ONE including and especially Gary Reese, the current City Councilman for ward 3 should get credit for this. We're very curious that not even the President of the Huntridge Neighborhood Association was notified, none the less any of the other neighborhood presidents or activists who have begged, pleaded, scolded and demanded – for 5 long years – that the Huntridge Circle Park be re-opened. Where did we hear about it? Some one heard it at an Adrianna event.
At least we get it open on weekends, even if it's nothing but a political ploy.