From August 2007
'Curbie Award' – 10th & Oakey
The 'Curbie Award' is something Jack thought up months ago… and since we've had barely a minute to breathe with everything going on, we're just getting to it now. It's basically our version of a formal recognition of VVV neighbors who've done a great job of restoring, updating, cleaning and polishing their curb appeal. Even with Jack's super key, we can't get in to ooh & aaah over the interior of every home down here, but it's the curb appeal that is changing the dynamic of the neighborhood's appearance.
We love to see owners who care enough to do their little part in beautifying the area. Our first 'winner' are Lawrence & Joan Tourville who own the home on the South West corner of 10th & Oakey. I've admired their lattice work above the screened in porch & great paint job since coming to the area. Their landscaping is always manicured & the property has a 'well loved' feel to it. What pushed them over the winner's line was the addition of the multi-colored wrought iron fencing around the perimeter. Here's a picture of the great Huntridge tract home made beautiful: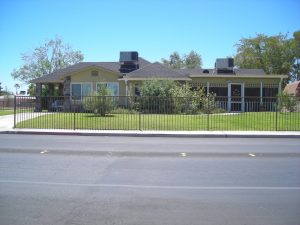 We hope to see more and more people following the example of the Tourvilles, and you never know.. we might pick you next! If you're in the process of beautifying your curb appeal, let us know & snap a few 'before' pictures so we can show off the work when its done.