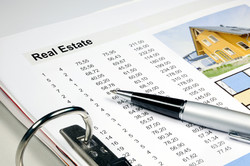 The convenience of having online information at your fingertips is truly a bittersweet phenomenon; you can find an answer to everything you need to know online…but how do you know that those answers are accurate? Even with the best intentions, web-based resources can mislead hopeful knowledge-seekers; we see this happen every day when it comes to homeowners utilizing online home valuation tools.
There is nothing more exciting than popping your address into a well-known real estate marketplace and getting a value on the spot. But there is also nothing more discouraging than planning your entire financial future on a falsehood. In this week's blog, we wanted to address the three things that you need to know about online guesstimates.
Remember 'GIGO'. Remember the old acronym 'garbage in, garbage out' (GIGO)? Guess what – it applies to real estate too. Automated valuation models (AVM's) all calculate your home's price by crunching available data and inserting into an algorithm. Each AVM pulls information from different sources, and calculates those numbers differently. You can literally input your address into 5 different sites and get 5 different values, depending on what data the site is using and how. Zillow even discloses a median error rate of over 8%, ranging from 5.3% to over 11% in some states.
In addition, the information being evaluated is typically derived from public records and the MLS, which may omit key information depending on the area, as different states permit different public accessibility of home data.  There is also the matter of inconsistent calculations of square footage (such as the omission of space such as a garage or finished basement). Other things the algorithm cannot account for are the age of the comparables (what if your neighborhood hasn't had a home sale in 6 months), the current or upcoming development in your area or the actual climate of the market in your location.
If you still aren't convinced that online pricing tools may not provide the accuracy you deserve, consider the recent experience of Zillow CEO as reported by Curbed. His own home sold for $650,000 less than its online Zestimate, and he overpaid for his new home by more than a million dollars by his own company's price estimator. Ouch!
Recently I've been checking some of my listings against the Guesstimate web sites to see how far off they can be.  One I listed for $244,900 that had a Zestimate of $199,000. The day my listing hit Zillow they raised their Zestimate to $220,000. The house sold for full price in two days. $45,000 more than the Zestimate.
Another listing the Zestimate was $319,000.  I listed the house for $369,000 and Zillow revised their Zestimate to $368,000 the same day. The property sold for full price, $50,000 more than the Zestimate.
I have five homes I'm currently dealing with.  I decided to check six online Guestimate web sites to see what they had to say:
| | | | | | |
| --- | --- | --- | --- | --- | --- |
| | Home 1 | Home 2 | Home 3 | Home 4 | Home 5 |
| Zillow | $498,783 | $278,991 | $257,353 | $319,145 | $184,599 |
| Trulia | $451,746 | $249,816 | $216,795 | $281,113 | $218,294 |
| Redfin | $446,769 | $319,957 | $233,677 | $286,062 | $268,000 |
| Homes.com | $405,572 | $254,005 | $217,989 | $244,527 | $209,052 |
| Realtor.com | $466,100 | $271,300 | $236,900 | $279,000 | $246,500 |
| Realty Trac | $510,000 | $285,000 | $253,000 | $265,000 | $252,000 |
There is a $105,000 spread and everything in between using the Guestimate web sites on some of these houses.  They are not doing buyers or sellers any favor with their "Guestimates".
I'm a firm believer that buying or selling your home is a personal decision that requires a human touch. I want you to be just as excited about the home ownership process as all of those online marketplaces, but for different reasons. I didn't enter this business to sell your data, but to watch you achieve the lifestyle you deserve and the home you've worked so hard for. I 'm pretty open about the fact that I hope to provide such a great experience, that you might even consider recommending me to a friend or family member.
I offer two FREE services to help you determine the REAL VALUE of your home.
I can give you a free evaluation of your home with no obligation. CLICK HERE.
I can also keep you up to date on the listings, sales and closings in the Vintage Neighborhoods that I have been representing since 1990 with a daily report. CLICK HERE to receive this free report.