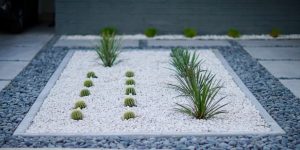 Too often when people decide to sell their home they remodel kitchens and bathrooms but do nothing for the outside of their home.  The first thing a potential buyer is going to see when they get out of their car is the front of your house. In most cases, the least expensive and most important improvement you can make is cleaning up and adding curb appeal to your house before selling it.
Studies have shown that a home with great curb appeal will add 5% to 15% to the value and offers received of a home depending on what you do to it.   On a $200,000 home you could end up pocketing $10,000 to $30,000 more.   Is a week of your time worth Thousands of dollars to you?
The first thing to do is stand across the street and take a good critical look at your house.  What do you see?  Trim paint has faded, weeds in the yard, oil spots in the driveway?  Those are all easy fixes that can bring you more money.
#1 Wash Your House's Face
Before you scrape any paint or plant more plants, wash the dirt, mildew, and general grunge off the outside of your house. A bucket of soapy water and a long-handled, soft-bristled brush can remove the dust and dirt that have splashed onto your wood, vinyl, metal, stucco, brick, and siding. Power washers (rental: $75 per day) can reveal the true color of your house and driveway.
Wash your windows inside and out, swipe cobwebs from eaves, and hose down downspouts. Don't forget your garage door which was once bright white.  Look at the gutter, it full of leaves and trash that washed down the street?  Pick it up.  Remove trash cans and the kid's bikes from the front yard.
#2 Freshen the Paint Job
The most commonly offered curb appeal advice from real estate pros and appraisers is to give the exterior of your home a good paint job. Buyers will instantly notice it, and appraisers will value it. Of course, painting is an expensive and time-consuming task. But it is worth it!
To paint a 3,000-square-foot home, figure on spending $375 to $600 on paint; $1,500 to $3,000 on labor.  Your best bet is to match the paint you already have: Scrape off a little and ask your local paint store to match it. Resist the urge to make a statement with color. An appraiser will mark down the value of a house that's painted a wildly different color from its competition.
#3 Fix Up the Roof
The condition of your roof is one of the first things buyers notice and appraisers assess. Missing, curled, or faded shingles add nothing to the look or value of your house. If your neighbors have maintained or replaced their roofs, yours will look especially shabby.
You can pay for roof repairs now, or pay for them later in a lower appraisal; appraisers will mark down the value by the cost of the repair. According to the "Remodeling Impact Report" from the National Association of REALTORS®, the national median cost of a new asphalt shingle roof is about $7,500. And if you install a new one, you'll get that back — plus a bit more. A  new roof has an ROI of 109%.
Some tired roofs look a lot better after you remove 25 years of dirt. Don't try cleaning your roof yourself: call a professional with the right tools and technique to clean it without damaging it. A 2,000-square-foot roof will take a day and $400 to $600 to clean professionally.
#4 Clean up the Yard
A well-manicured lawn, fresh mulch, and pruned shrubs boost the curb appeal of any home.
Replace overgrown bushes with leafy plants and colorful annuals. Surround bushes and trees with dark or reddish-brown bark mulch, which gives a rich feel to the yard. Put a crisp edge on garden beds, pull weeds and invasive vines, and plant a few geraniums in pots.
Green up your grass with lawn food and water. Cover bare spots with seeds and sod, get rid of crabgrass and mow regularly. If you're selling anytime soon, any work you do now will reap benefits in your home's selling price, usually 100% or more according to the "Remodeling Impact Report" from the National Association of REALTORS®.
#5 Improve the Front Door
A quart of paint can work wonders and costs less than $10.  New doors can run you $800 to $1,300 and chances are you will recoup every cent of it if your current front door is falling apart or looks dated.  If you paint your current door also look at updating the hardware.  This is the first thing buyers are going to touch when visiting your home for the first time.  They will notice the front door and this is an easy way to make a great impression on them.
#6 Glam Up Your Mailbox
An upscale mailbox, architectural house numbers, or address plaques can make your house stand out.
High-style die-cast aluminum mailboxes range from $100 to $350. You can pick up a handsome, hand-painted mailbox for about $50. If you don't buy new, at least give your old mailbox a facelift with paint and new house numbers.
The local home improvement center or hardware store has an impressive selection of decorative numbers. Architectural address plaques, which you tack to the house or plant in the yard, typically range from $80 to $200. Brass house numbers range from $3 to $11 each, depending on size and style.
I can give you a free evaluation of your home with some pointers on how to give your home more Curb Appeal with no obligation. CLICK HERE.