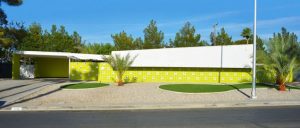 Paradise Palms is a Mid Century Modern housing community.
The home pictured is known as the Caddy Shack.  I've been fortunate enough to represent buyers and sellers of this home five times over the years.  I've been the number one Broker/Agent of Paradise Palms homes for over ten years and happy to say I'm maintaining that status so far again this year.
In the 1960s Irwin Molasky's company Molasky Development hired the young architectural firm of Palmer & Krisel fresh from their success building hundreds of successful tract homes for Alexander Homes and other custom projects in Palm Springs, California.
"This unique subdivision was the first planned community in Clark County. We used curvilinear street patterns instead of rectilinear. Paradise Palms won the American Builder magazine award for one of the best planned communities in the U.S. The architects were two young men by the names of Palmer and Krisel. The interior designs were by world-renowned C. Tony Pereira." Irwin A. Molasky.
The tract is sprinkled with several Mid Century Modern home styles. The homes are standard post and beam construction on the slab. Most sit on a 40-by-40-foot (12 by 12 m) imprint.
There were numerous models available, but to make the homes look custom, the footprints were rotated on their lots and flipped with a minimum of 3 different roof lines available: folded plate roof lines, butterfly roofs, ranch, and dramatic overhangs. The homes also featured unique decorative blockwork and stone screens and were generally finished in sanded stucco.
"Street side, facades stretched almost the full extent of the 100-foot (30 m) wide lots. Concrete block or extended stucco walls connecting house and carport were intended to add length to the front of the house for a more imposing appearance. Idiosyncratic decorative elements made use of wood, decorative concrete block, patterned brick, two-tone paint, rock, ironwork, spun fiberglass panels, and other materials." Robert Imber, Eichler Network.
Here are some of the celebrities, politicians, and other notable early owners of homes in Paradise Palms. These were culled from a variety of sources.
Rhoda Wolf (wife of Larry Wolf, owner of the Bonanza Hotel and Casino) –  3586 Spencer
Buddy Hackett (House was owned by the Sahara Hotel) – 1938 Ottawa Drive
Wayland Flowers (1982 – 1987) – 1938 Ottawa Drive
Juan García Esquivel (space age band leader) – 661 Seneca Circle
Rip Taylor and Sam "Baby Shoes" Prezant (bookmaker associated with the mob) – 3328 Pawnee Drive
Bobby Darin– 1438 Cayuga Pkwy
Pierre Bezard (Dunes music director) – 3451 Sioux Way
Judy Lynn(country music singer and Miss Idaho 1955) – 1389 Pawnee Drive
Bruno Scarrone (choreographer for Folies Bergere) – 1688 Pawnee Circle
Jerry Gordon (vice president of the Flamingo) and Tim Alexander (drummer for Primus) – 1676 Pawnee Circle
Buddy Sarkissian (drummer/musician in Armenian cabaret music) – 3558 Spencer Street
Johnny Carson and Joe Louis (world heavyweight boxing champion from 1937 to 1949) – 3333 Seminole Circle
Frank Rosenthal (the movie Casino was based on this person) – 3572 Spencer Street
Dick C0ntino (musician/actor) and Vido Musso (musician) – 3355 Nahatan Way
Mike Reaves (songwriter/ bandleader) – 3398 Nahatan Way
Gladys Knight (singer) (Gladys Knight & the Pips) – 1589 Golden Arrow Dr
Phyllis Diller– 1515 Cayuga Parkway
Stanley Morgan (The Ink Spots) – 1761 Ottawa Drive
Walter Zick(architect) – 3614 Ottawa Circle
Dolores Fuller(actress/songwriter for Elvis) – 3628 Ottawa Circle and 1389 Commanche Drive
Harris Sharp(architect) – 2144 Ottawa Drive
Frank Masterana (black book gambler) – 2082 Ottawa Drive
Debbie Reynolds and Sonny Liston (world heavyweight boxing champion) – 2058 Ottawa Drive
Max Baer Jr. (actor – Jethro Bodine) – 3456 Pueblo Way
Shecky Greene (comedian) – 2201 Geronimo Way
Jay Sarno (Circus Circus / Caesars Palace) and Robert Bigelow (Bigelow Aerospace) – 3541 Maricopa Way
Fredric Apcar (Dunes show producer) – 1499 Cayuga Parkway
Frank Pellegrino (actor) – 3398 Seneca Drive
Tonni Kalash (trumpet for Herb Alpert) and Cal Kalash (violinist) – 3378 Seneca Drive
David Victorson (Caesar's entertainment director) – 3333 Arapaho Circle
David Swan (comedian/actor) – 1948 Raindance Way
Nick Esposito (musician) – 3325 Arapaho Circle
Foster Brooks (actor) and Dionne Warwick (who lived there briefly, but used to rent it to the Riviera for their headlining acts such as Engelbert Humperdinck, Bob Newhart, and Burt Bacharach) – 3482 Pueblo Way
Red Mcilvaine (talk show host, comedian, local TV personality) – 3858 Pima Lane
Donald Sutherland (actor) – 3853 Pima Lane
Juliet Prowse (actor – engaged to Frank Sinatra, dated Elvis Presley) – 3326 Arapaho Circle
Frank Schivo (Sahara part owner) and Robert Maheu (F.B.I., C.I.A., and right-hand man to Howard Hughes) – 3525 Cochise
Michael Schivo (concert promoter) – 1618 Seneca Lane
Ash Resnick (Caesars vice president with ties to the mob – the film Casino was also filmed at this location) – 3515 Cochise
Nevada State Senator John "Jack" Vergiels – 3555 Algonquin Drive
Don Vincent (music director for Wayne Newton) – 3591 Algonquin Drive
Phil Ford (Comedy team of Phil Ford & Mimi Hines) — 1517 Cayuga Parkway
Buddy Rich (American jazz drummer and bandleader) —

1734 Sombrero Dr.

Mary Kaye (Mary Kaye Trio) —

1608 Raindance Way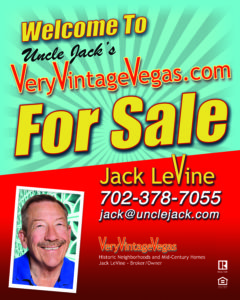 Jack LeVine has been trusted by well over a thousand clients in the last 28 years. He gets the job done – and gets it done right. No other agent in Las Vegas has the depth of knowledge and experience that Jack has of the vintage neighborhoods, the mindset of buyers for 50 or 60-year-old homes, and the special things that dramatically affect the value of a vintage home.
If you want to sell (or buy) a Vintage Las Vegas era home – Call or email Jack LeVine of Very Vintage Vegas Realty – 702-378-7055   [email protected]