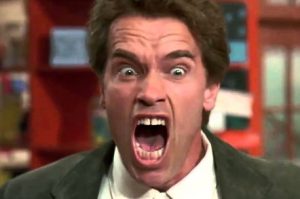 Many are trying  to compare the current housing market to the market leading up to the crash that we experienced ten years ago. They look at price appreciation and believe that we are following the same path that ended up making Las Vegas see the worst housing crises in our history.
The problem with making assumption like that is people are only using housing prices to make this prediction and not looking at the root causes and what really drove the market a decade ago and what is driving it today.
There is a major difference between the two markets. Last decade, while demand was being artificially created by extremely loose lending standards, a tremendous amount of inventory was coming to the market to satisfy that demand.
A normal market should have approximately 6 months supply of housing inventory. That number jumped to over 11 months supply leading up to the housing crisis. When questionable mortgage practices ceased, and demand dried up, there was a glut of inventory on the market which caused prices to drop as there was too much supply and not enough demand.
| | | | | | |
| --- | --- | --- | --- | --- | --- |
| Year | 2005 | 2006 | 2007 | 2008 | 2009 |
| Months of inventory | 3.75 | 7.00 | 6.25 | 10.25 | 11.00 |
Today the market conditions are completely different than a decade ago.
There are those who believe that low mortgage rates have created an artificial demand in the current market. They fear that if mortgage rates continue to rise, some of the current demand will dry up (which is a possibility).  Mortgage rates have dropped in each of the last three weeks.  Mortgage rates fall to the lowest level since mid-April.
However, if we look at supply again, we can see that the current supply of homes is well below the norm of 6 months.
| | | | | | |
| --- | --- | --- | --- | --- | --- |
| Year | 2014 | 2015 | 2016 | 2017 | 2018 |
| Months of inventory | 4.75 | 4.25 | 3.75 | 3.50 | 2.10 |
 Many things are helping drive the current market in Las Vegas.
Over 100,000 people have moved to the Las Vegas Valley since 2016
The unemployment rate has been dropping since 2012 and is the lowest in a decade
There is over Twenty Billion Dollars of major construction projects currently being built on the Las Vegas Strip that provide construction jobs then thousands of other jobs once the projects are finished.
Las Vegas has become the hottest home market in the U.S. with price appreciation of 13% over this same time last year.  That sounds like a lot but a decade ago we were seeing homes jump that much and more in a single month.
Other industries have been moving into Nevada providing jobs so we are not as reliant on gaming as we have been in the past and their workers need homes.
Banks have lending standards, they are not passing out money as easily as they did a decade ago so people now have their own money in their home purchase.
What's this all mean?
We won't have the glut of inventory like we did back in 2008 and home values won't come tumbling down. Instead, if demand weakens, we will return to a normal market (approximately a 6-month supply) with normal levels of appreciation (3.6% –  5% annually).  Recession DOES NOT equal housing crisis. Many people associate these two terms with one another because the last time we had a recession it was caused by a housing crisis. According to the Federal Reserve, over the last 40 years, there have been six recessions. In each of the previous five recessions, home values appreciated.
In the last two weeks we have seen price reductions on many of the homes currently listed. This doesn't mean home values have depreciated or are about to depreciate.  This does mean that sellers should be more conservative when it comes to the price at which they list their homes – especially sellers in the upper end of each market.  Houses in the mid-range are still selling in a matter of days when priced correctly.
Sellers have been listing their homes at inflated prices hoping a super-hot market will deliver a buyer willing to pay virtually any price to ensure they don't lose the house. That strategy has worked somewhat successfully over the last two years. However, the time that strategy would have worked may have passed.  It is time for sellers to listen to their agents if they really want to sell their houses.
The way the market is holding chances are Las Vegas we will still see a 10% appreciation rate over the next twelve months.  However, if you want to sell your house quickly and with the least amount of hassles, pricing it correctly from the beginning makes the most sense.
I offer two FREE services to help you determine the REAL VALUE of your home.
I can give you a free evaluation of your home with no obligation. CLICK HERE.
I can also keep you up to date on the listings, sales and closings in the Vintage Neighborhoods that I have been representing since 1990 with a daily report. CLICK HERE to receive this free report.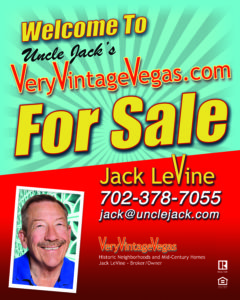 Jack LeVine has been trusted by well over a thousand clients in the last 28 years. He gets the job done – and gets it done right. No other agent in Las Vegas has the depth of knowledge and experience that Jack has of the vintage neighborhoods, the mindset of buyers for 50 or 60-year-old homes, and the special things that dramatically affect the value of a vintage home.
If you want to sell (or buy) a Vintage Las Vegas era home – Call or email Jack LeVine of Very Vintage Vegas Realty – 702-378-7055 [email protected]