There has been a lot in the news recently about the Las Vegas Housing market.
While the Inventory has risen to a two month supply it is still way below the six month supply we should have to create a stable market.
Value is holding fast but those that have over priced their homes jumping in the market are finding out buyers are no longer willing to pay too much to buy a house.
Using an agent that knows your neighborhood and that is keeping up daily with the ever changing market is the right thing to do right now if you really want to sell your house or are looking to buy a home.
I offer two FREE services to help you determine the REAL VALUE of your home.
I can give you a free evaluation of your home with no obligation. CLICK HERE.
I can also keep you up to date on the listings, sales and closings in the Vintage Neighborhoods that I have been representing since 1990 with a daily report. CLICK HERE to receive this free report.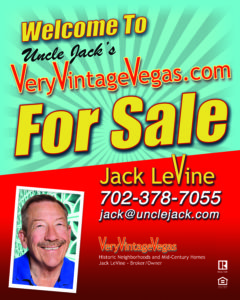 Jack LeVine has been trusted by well over a thousand clients in the last 28 years. He gets the job done – and gets it done right. No other agent in Las Vegas has the depth of knowledge and experience that Jack has of the vintage neighborhoods, the mindset of buyers for 50 or 60-year-old homes, and the special things that dramatically affect the value of a vintage home.
If you want to sell (or buy) a Vintage Las Vegas era home – Call or email Jack LeVine of Very Vintage Vegas Realty – 702-378-7055 [email protected]