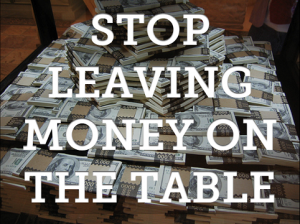 There are a lot of  "IBuyer"  web sites out there now.  Give them your address — and they will make you a cash offer for your house.  They are in the business of buying Wholesale and re-selling at Retail. That is what business is about, but why would you want to wholesale your house?  They sell you on the idea because you don't have to show your house and you can close the deal in just a few days.  Fact is most of their deals close in 30 to 45 days because most people are not looking to move in a week or two.
They have to make you a below-market offer because they are going to resell the house to make a profit. They will charge you fees. They will deduct any repairs that are needed and you still end up paying closing costs.
Recently a fellow Real Estate Broker decided he would sell one of his rentals.  He had already put the house in shape to sell and decided he would call three of the "IBuyers" to see just what they would offer and what the costs would be.  He ended up listing the house, selling it in a couple of weeks for what the house was worth.
| | | | | |
| --- | --- | --- | --- | --- |
| IBuyer | Offer | Percentage Fee's | Fee's | Net to Seller |
| Open Door | $288,800.00 | 8% | $23,056.00 | $265,744.00 |
| Offer Pad | $276,842 | 7.5% | $20,763.15 | $256,078.85 |
| Zillow | $288,200 | 10% | $28,820.00 | $259,380.00 |
| Listed with Agent | $297,500.00 | 6% | $17,850.00 | $279,650.00 |
It took two weeks and he lowered his asking price from $300,000 to $297.500 but he put $12.906.00 more than he would get from Open Door, $23,571.15 more than from Offer Pad and $20,270.00 more than from Zillow in HIS POCKET.  Do you really want to leave that much money on the table for someone else to profit from?
I offer two FREE services to help you determine the REAL VALUE of your home.
I can give you a free evaluation of your home with no obligation. CLICK HERE.
I can also keep you up to date on the listings, sales and closings in the Vintage Neighborhoods that I have been representing since 1990 with a daily report. CLICK HERE to receive this free report.