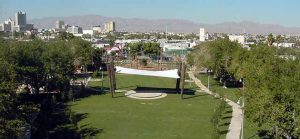 Huntridge Circle Park is centrally located within the Huntridge Subdivision and sits on a three-acre oval median between the north and southbound lanes of traffic on Maryland Parkway. The developers of Huntridge Subdivision deeded Huntridge Circle Park to the City of Las Vegas in 1942. Since 1967, the park has consisted of a grassy area lined with trees, lights, and several parking spaces.  Because the park was nestled between the lanes of traffic on a heavily traveled roadway, residents of the surrounding Huntridge Subdivision were hesitant to access or allow their children to access, the park by crossing Maryland Parkway.  Moreover, by 2002, the City, and many of the residents of the surrounding neighborhood, believed that vagrants had taken over the park. Thus, in 2001, the City created a Circle Park Steering Committee ("Steering Committee") to prepare a plan to renovate the park.
The Circle Park Steering Committee prepared and conducted a survey targeted at residents residing within a one-half mile radius of Huntridge Circle Park. Id. Twenty percent of those surveyed by the Steering Committee responded to their survey. Id. Those who responded cited four areas of concern, including: "homeless sleeping in the park and related criminal activity"; "safety due to vehicle traffic"; "landscaping: more trees and shrubs with less grass"; and "lack of activities for children."
Based on recommendations made by the Steering Committee, the City of Las Vegas undertook an approximately $1.5 million dollar renovation of Huntridge Circle Park. The improvements included a grass amphitheater replete with shaded outdoor stage and grassy seating area, community perennial garden, jogging path, restrooms, landscaping, and children's play areas with water
features and safety barriers. Moreover, the City of Las Vegas installed traffic controlled pedestrian crosswalks to facilitate access to the park.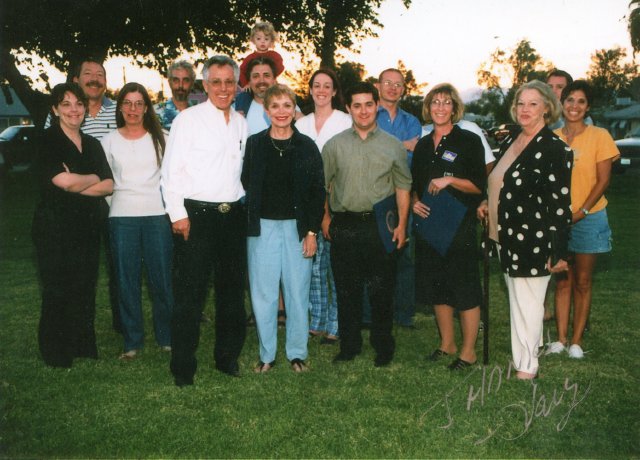 First Park  meeting of the 2001 Circle Park Steering Committee for the redesign of Circle park at Maryland Parkway and Charleston Blvd in the Huntridge District.
People who have been identified are (L-R): Kasey Baker?, Jack LeVine, Pam Hartley, Anthony Bondi, Gary Reese, ?, ? Myrne Williams, ?, Bill Contine, Chris Giunchigliana, Kerin Rodgers, ? ?
Fast forward 2019. 
The park is closed for the third time since 2000.  The concerns expressed today are the same as in 2001.  Millions have been spent over the years yet the same problems persist.
Private business and developers are now teaming up with the city with plans to make the Huntridge Circle park into an Children's & Sculpture Garden.  Time will tell if this is what it takes for this historic park to thrive.