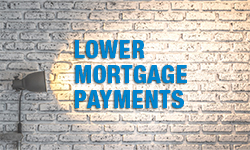 Even with mortgage rates around their lowest levels in years, affordability remains a top concern for home buyers. But don't worry just yet, because despite rising home prices, the month-to-month cost of homeownership is actually falling.
A recent poll shows that most people believe home prices are on the rise — and they're not wrong. Median home prices went up by 5% between August 2018 and August 2019.
When prices rise, many consumers believe it's not a good time to buy anything, let alone a house. However, potential homeowners might be missing out on a prime buying opportunity. Because despite a rise in home prices, monthly mortgage payments have actually gone down year-over-year.
The main reason for this improbable shift? 2019's near-record low mortgage rates.
According to a home price index study conducted by the Federal Housing Finance Agency (FHFA), home prices rose by 5% between August 2018 and 2019.
With the median sales price of a home rising in many regions across the U.S., you would think mortgage payments would follow suit: The higher the sales price, the more money you need to borrow, which typically means a bigger monthly payment.
However, a recent analysis from property data firm CoreLogic shows that mortgage payments have decreased by 6.1 percent since last May. It's the first time in nearly three years the typical mortgage payment has dropped.
Though median sale prices are up, falling mortgage rates have negated their impact. Rates have fallen nearly a full percentage point in the last 12 months.
According to CoreLogic's data, an uptick in rates actually caused the opposite to happen this time last year, with payments jumping 14 percent in June 2018. Across all of 2018, average mortgage payments rose about 13 percent every month.
The current typical mortgage payment is nearly 32 percent lower than the all-time high, reached in June 2016. At the time, rates averaged around 6.7 percent.
Still, dropping rates aren't the only thing today's buyers have going for them. There's also another benefit: more disposable cash.
"Beyond the typical mortgage payment's decline over the past year, many homebuyers are better off this year because of at least modest annual income gains," LePage said.