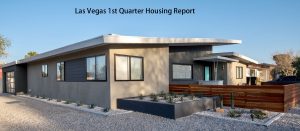 While we are experiencing uncertain times around the world and in Las Vegas the housing market appears to continue moving forward. I don't believe anyone, including myself with thirty years of experience, can predict how the housing market is going to perform in the following months.
Today I'm going to present what the first quarter of 2020 has produced by the numbers. Since these are all past numbers – the only thing they tell us is that pre-corona there was robust healthy demand in the market. I have no reason to believe that it won't come back strong once we are past all of this.
Last Seven days in Las Vegas
March 23 –  31, 2020
New Listings                861
New Under Contract   635
Closed sales                864
Closed sales by month
January            3,037
February          3,256
March             3,487
Active Listings
January            9,158
February          8,478
March             8,912
New Listings
January            4,389
February          4,496
March             4,924
Months Supply of Homes for Sale
January            2.5
February          2.3
March             2.4
My Personal Production for the First Quarter
 My Unit sales are up 45% (first quarter 2020 over first quarter 2019)
The dollar value of my sales are up 100% (more sales and they were higher priced sales)
How are we dealing with the current situation?
No office meetings at all. Everyone working from home.
All paperwork is being completed on secure servers online.
We are not showing occupied homes if anyone is present.
We are not driving anyone to or from showings. If more than one home is on the tour – the buyers must follow in their own vehicle.
We are carrying sanitizer wipes on showings – We are wiping all door handles and light switches, and no one is touching anything in the homes. We are using hand sanitizers before and after entering any property and every time we get into or out of the car. And OF COURSE – we're WASHING OUR HANDS at every opportunity.
We can do video previews or facetime/whatsap/zoom conferencing for qualified buyers that are interested in a property.
On listing appointments, we are doing them by video conferencing when possible and if we meet the homeowners at their property we are keeping a ten-foot space between all parties.
Photos are taken with no one in the house.
Many sellers have placed hand sanitizers at the front door – and some have just flat out gone to no showings at all or taken their homes off the market altogether.
Why Are We Still Working?
Homeland Security and Governor Sisolak have determined that Real Estate is an essential business and we are taking all the guidelines seriously. All precautions will be taken to protect our staff, you and your family.