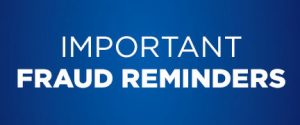 Fraudsters are taking advantage of these uncertain times by impersonating the CDC, SBA, IRS and other government and healthcare organizations. Whether you're running a business or managing your personal finances, it is important to stay alert.
Here are some helpful reminders you can act on:
Review your account(s) daily through Online or Mobile Banking.
Don't provide confidential information to anyone who is calling you. If we reach out to you, we won't ask you to provide your username, password, personal identification number (PIN) or other account information.
Don't give out your bank account, debit account, or PayPal account information – even if someone claims it's necessary to get your stimulus check or other government benefits.
Update your contact information, so we can inform you quickly if we suspect unusual transactions.
Monitor your account for suspicious activity by setting up Mobile Card Fraud alerts.
Create a strong, unique password. Use a combination of upper & lowercase letters, numbers, and special characters.
Update passwords regularly and avoid sharing your passwords.
Go paperless to help avoid mail fraud.
Don't click on links in emails or online that you are not familiar with. This includes emails with links related to Coronavirus, IRS Relief Funds, or Tax Payments.
Additional Resources: