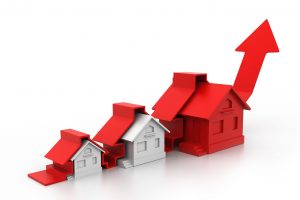 Some real estate pros are having their best year ever for home sales, despite the pandemic. Existing-home sales in November climbed 25.8% compared to last year, the National Association of REALTORS® reported Tuesday.
Existing-home sales—completed transactions on single-family homes, townhomes, condos, and co-ops—did dip down by 2.5% in November compared to October's unseasonably high levels, however. The slight decrease last month ended a five-month streak of month-over-month gains. Still, all four major regions across the country posted significant year-over-year growth.
"Home sales in November took a marginal step back, but sales for all of 2020 are already on pace to surpass last year's levels," says Lawrence Yun, NAR's chief economist. "Given the COVID-19 pandemic, it's amazing that the housing sector is outperforming expectations."
A buyer frenzy for a limited number of homes for sale continued to press on many housing markets in November. Home prices are rapidly rising in response to the high demand, posting double-digit increases compared to a year ago, NAR reports.
Despite the booming housing market, the pandemic continues to wreak havoc on the economy. Unemployment remains high, and rapidly rising coronavirus cases mixed with stricter lockdowns are weakening consumer confidence.
"Circumstances are far from being back to the pre-pandemic normal," Yun says. "However, the latest stimulus package and with the vaccine distribution underway, and a very strong demand for homeownership still prevalent, robust growth is forthcoming for 2021."
6 Key Housing Indicators
Here's a closer look at findings from NAR's latest housing report:
Home prices: Median existing-home prices in November were $310,800—a 14.6% jump compared to a year ago. Prices rose in every region across the U.S.
Inventories: Housing shortages abound with inventories falling to record lows. Total housing inventory declined annually in November to 1.28 million, reflecting 2.3 months at the current sales pace.
Days on the market: Homes are selling faster. Seventy-three percent of homes sold in November were on the market for less than a month. Properties typically remained on the market for 21 days, down from 38 days a year ago. "The positive momentum that home sellers are seeing will carry on well into the new year," Yun says. He cited record-low mortgage rates (the 30-year fixed-rate mortgage averaged 2.77% in November) and the growth in remote-work flexibilities as helping to propel that momentum well into the new year.
First-time buyers: First-time buyers continue to face affordability challenges as home prices rise. First-time buyers made up 32% of sales in November, about equal to a year ago, NAR's data shows. "Housing affordability, which had greatly benefited from falling mortgage rates, are now being challenged due to record-high home prices," Yun says. "That could place a strain on some potential consumers, particularly first-time buyers."
Investors and second-home buyers: Individual investors and second-home buyers purchased 14% of homes in November, a small decline from 16% a year ago. Investors and second-home buyers tend to account for the largest share of cash sales. All-cash sales comprised 20% of transactions in November, unchanged from a year ago.
Distressed sales: Foreclosures and short sales are hard to find in the current market. They made up less than 1% of sales in November, down from 2% a year ago.
Regional Breakdown
Here's how existing-home sales fared across the country in November.
Northeast: Existing-home sales dropped 2.2% to an annual rate of 880,000—a 25.7% increase compared to a year ago. Median price: $354,100, up 17.4% annually.
Midwest: Existing-home sales fell 2.5% to an annual rate of 1.59 million in November. However, that is up 24.2% from a year ago. Median price:$239,100, a 14.6% increase from November 2019.
South: Existing-home sales decreased 3.8% to an annual rate of 2.82 million in November, up 25.9% from the same time last year. Median price: $270,000, a 15% increase from a year ago.
West: Existing-home sales held steady last month recording an annual rate of 1.4 million in November, a 27.3% increase from a year ago. Median price: $467,600, up 13.8% from November 2019.