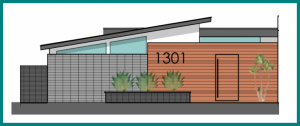 Take a peek at the floor plans for our newest community, The Pines at John S Park! These homes will have a modern and sleek feel, while still maintaining that awesome 60's vibe
Prices will be $605,000 for our 2,837 sq ft single story, and $615,000 for our 3,064 sq ft two-story. The FIRST new construction to hit this historic area of LV is sure to sell out FAST!
While we never like to see anyone come into the Vintage Neighborhoods, take down old homes, and build new ones that didn't happen here. This was the property that the Morman Stake House was on that they sold years ago and the property has just set vacant.   This is going to be a great addition to the neighborhood since the developer listened to the other owners in the area and is building new Mid-Century style homes.  Give me a call today if you are interested in this new development in John S. Park.