I could write thousands of words to try to explain the market conditions but I felt it best to just keep it simple. Everything points to buy now or pay more later.
Others may consider waiting for another year and hoping that purchasing a home will be less expensive then. Let's look at that possibility.
We've already established that a monthly mortgage payment is determined by the price of the home and the mortgage rate. A lower monthly payment would require one of those two elements to decrease over the next year. However, experts are forecasting the exact opposite:
The Mortgage Bankers Association (MBA) projects mortgage rates will be at 4.2% by the end of next year.
The Home Price Expectation Survey (HPES), a survey of over 100 economists, investment strategists, and housing market analysts, calls for home prices to increase by 5.12% in 2022.
Based on these projections, let's see the possible impact on a monthly mortgage payment: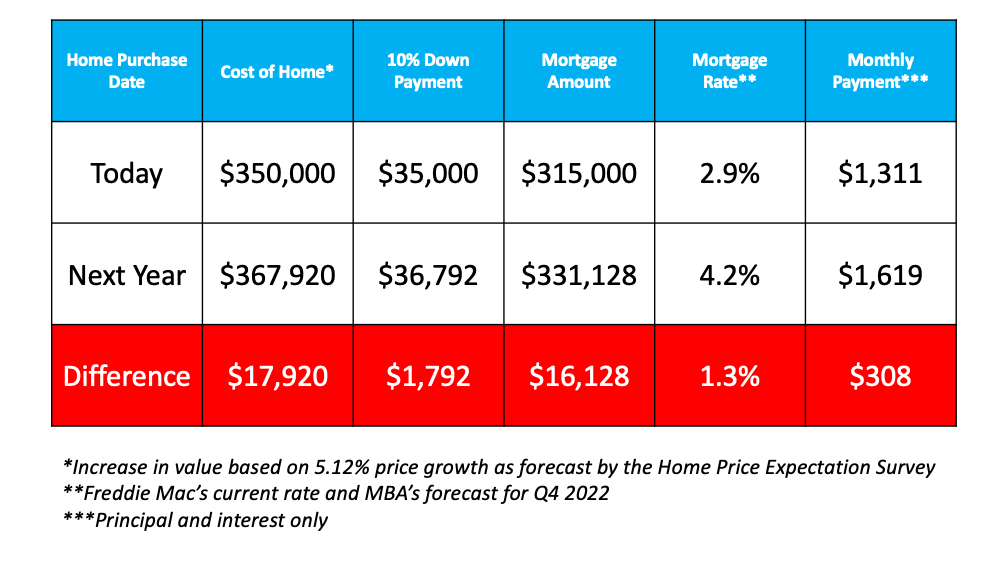 By waiting until next year, you'd potentially pay more for the home, need a larger down payment, pay a higher mortgage rate, and pay an additional $3,696 each year over the life of the mortgage.
Bottom Line
While you may have missed the absolute best time to buy a home, waiting any longer may not make sense. Mark Fleming, Chief Economist at First American, says it best:
"Affordability is likely to worsen before it improves, so try to buy it now, if you can find it."