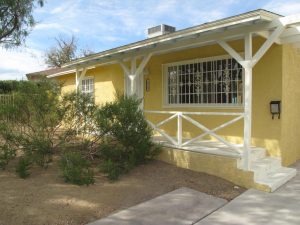 Socially conscious seller and agent will give preference to owner-occupied buyers over investors. This affordable 2-bed room home is just about as cute as it can get! Original hardwood floors, The kitchen has updated cabinets and quartz countertops. All appliances are included. The bathroom is fun and colorful, There are lots of patio and a very generous sized backyard. There's an attached workshop/storage room. The landscape is anchored by a gorgeous mesquite tree and a lawn in the rear. It even has a front porch! Sewer and water lines are updated, The heat/AC is about 4 years old. The neighborhood is coming back fast and has terrific access to Fremont Street entertainment district as well as all of downtown.
Call me now to schedule an appointment. 702-378-7055
See more photos and the full listing BY CLICKING HERE
In less than 24 hours we received multiple offers on this home. Went to contract. Homes priced, presented, and marketed right sell fast.