New pedestrian bridge planned for intersection of Sahara Avenue & Las Vegas Boulevard.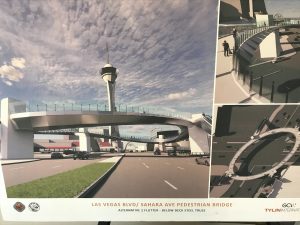 The Las Vegas City Council has given the green light to design a new pedestrian bridge over Las Vegas Boulevard.
The city council on Wednesday approved a contract to fund the preliminary design of a bridge at the boulevard and Sahara Avenue.
Clark County and the Regional Transportation Commission would be working with the city of Las Vegas on the project. Las Vegas city limits begin at Sahara Avenue.
The city would put forward $2 million for the design. A final design is scheduled to be completed next year.