Flamingo Las Vegas 75th Anniversary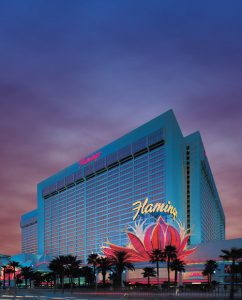 In 1946, Benjamin "Bugsy" Siegel and business partner Meyer Lansky famously opened the Flamingo Hotel intending to bring Hollywood glam to the desert. They created the first resort-style hotel on the Strip and forever changed Las Vegas.
Allegedly, Siegel named the resort after his girlfriend, Virginia Hill, who loved to gamble and was nicknamed "Flamingo". It is reported that Siegel called her this because of her long, skinny legs. Organized crime king, Lucky Luciano, wrote in his memoir that Siegel once owned an interest in the Hialeah Park Race Track and viewed the flamingos who populated nearby as a good omen. The "Flamingo" name is reported to have been given to the project at its inception by Wilkerson.
The resort at the heart of the Strip celebrates its milestone 75th anniversary. Now through the end of the year, guests can enjoy anniversary-themed offers at the resort,