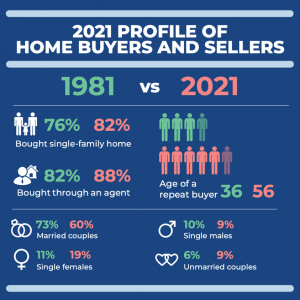 For most home buyers, the purchase of real estate is one of the largest financial transactions they will make. Buyers purchase a home not only for the desire to own a home of their own, but also because of changes in jobs, family situations, and the need for a smaller or larger living area. This annual survey was conducted by the NATIONAL ASSOCIATION OF REALTORS® of recent home buyers.
Characteristics of Home Buyers
First-time buyers made up 34% of all home buyers, an increase from last year's 31%.
The typical first-time buyer was 33 years old this year, while the typical repeat-buyer age rose to an all-time high of 56 years old.
11% of home buyers purchased a multi-generational home, to take care of aging parents, because of children over the age of 18 moving back home, and for cost-saving.
14% of recent home buyers were veterans and 3% were active-duty service members.
Characteristics of Homes Purchased
Most recent buyers who purchased new homes were looking to avoid renovations and problems with plumbing or electricity at 36%. Buyers who purchased previously-owned homes were most often considering a better overall value at 38%.
Buyers typically purchased their homes for 100% of the asking price, with 29% purchasing for more than the asking price.
The typical home that was recently purchased was 1,900 square feet, had three bedrooms and two bathrooms, and was built in 1993.
Convenience to family and friends was the second most important factor in influencing neighborhood choice after the quality of the neighborhood, surpassing convenience to jobs and affordability, which were more important last year.
The Home Search Process
For 41% of recent buyers, the first step that they took in the home buying process was to look online at properties for sale, while 19% of buyers first contacted a real estate agent.
Buyers typically searched for 8 weeks, looked at a median of 8 homes and viewed 3 of these homes only online.
Nearly all buyers used online tools in the search process at 95%.
94% of recent buyers were at least somewhat satisfied with their recent home buying process.
Home Buying and Real Estate Professionals
87% of buyers recently purchased their home through a real estate agent or broker, and 7% purchased directly from a builder or builder's agent.
Having an agent to help them find the right home was what buyers wanted most when choosing an agent at 52%.
73% of buyers interviewed only one real estate agent during their home search.
90% of buyers would use their agent again or recommend their agent to others.
Financing the Home Purchase
87% of recent buyers financed their home purchase.
First-time buyers who financed their home typically financed 93% of their home compared to repeat buyers at 83%.
For 61% of buyers, the source of the downpayment came from their savings. 56% of buyers cited using the proceeds from the sale of a primary residence, while 28% of first-time buyers used a gift or loan from friends or family for the downpayment.
Home Sellers and Their Selling Experience
For all sellers, the most commonly cited reason for selling their home was the desire to move closer to friends and family (18%), that it was too small (17%), and the neighborhood had become less desirable (11%).
90% of home sellers worked with a real estate agent to sell their home.
For recently sold homes, the final sales price was a median of 100% of the final listing price.
Only 26% of all sellers offered incentives to attract buyers, a drop from 46% of all sellers last year.
Home Selling and Real Estate Professionals
82% of recent sellers contacted only one agent before finding the right agent they worked with to sell their home.
89% of sellers listed their homes on the Multiple Listing Service (MLS), which is the number one source for sellers to list their home.
76% of sellers reported that they provided the agent's compensation.
For-Sale-by-Owner (FSBO) Sellers
Only 7% of recent home sales were FSBO sales this year.
FSBOs typically sell for less than the selling price of other homes; FSBO homes sold at a median of $260,000 last year, significantly lower than the median of agent-assisted homes at $318,000.
The majority of FSBO sellers, 57%, knew the buyer of the home.
If you're ready to list your house or would like more information give me a call now. 702-378-7055 
Let my 30+ years of Real Estate experience in Las Vegas work for you.
The information contained, and the opinions expressed, in this article are not intended to be construed as investment advice. Very Vintage Vegas does not guarantee or warrant the accuracy or completeness of the information or opinions contained herein. Nothing herein should be construed as investment advice. You should always conduct your own research and due diligence and obtain professional advice before making any investment decision. Very Vintage Vegas, will not be liable for any loss or damage caused by your reliance on the information or opinions contained herein.