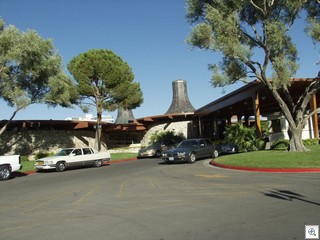 Midnight's good for seeing well lit buildings, but it wasn't so great for seeing the clubhouse at the LVCC. It was totally dark, and the bus was outside the gates on Joe S. Brown Drive. We could see it about 100 yards away, but there wasn't a light to be found.
I happen to have some photos that I shot last summer and promised the people sitting around me on the bus that I would publish them this week.
The LVCC is one of the finest examples of post and beam and natural material mid mod buildings that I've ever had the pleasure of seeing.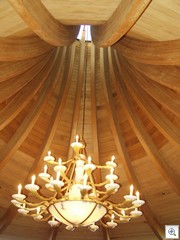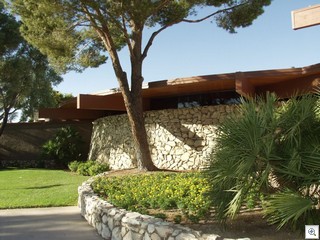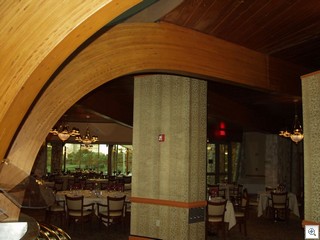 The famous Marnell House on 15th Street South of Oakey was modeled after the roof line of the LVCC. It was one of the stops on our history hunt last summer.
From The LVCC WEBSITE, A short history:
During the 1950's, the property now occupied by The Las Vegas Country Club was the site of a thoroughbred racetrack named Las Vegas Downs, with the only access being a gravel road running from Paradise Road to the track. When the racetrack went into bankruptcy, the property was purchased by an investor named Joe W. Brown.
Brown later sold it to Marvin Kratter of Nevada Equities who proceeded to build the country club. The golf course was completed in the fall of 1967, followed by the completion of the clubhouse in April of 1968. Mr. Kratter opened it under the name of The Las Vegas International Country Club and operated it as such until he sold it to a Strip hotel named the Bonanza. The club was renamed The Bonanza Country Club and Corral. In late 1970, it was sold to four partners of Realty Holdings (Moe Dalitz, Harry Lahr, Nate Adelson and Irwin Molasky) who renamed it The Las Vegas Country Club, and made it a private country club in July of 1971.
The Dalitz group sold the Club to forty of its' Members with the ultimate plan being to make it an equity type membership. This was accomplished by these forty Members holding a mortgage until they were paid off through the sale of memberships and the general operation of the Club. The mortgage was paid off in 1984 making a true equity membership Club that has operated as such to this date.
The clubhouse architect was Julian Gabrielle; the golf course designer was Edmond B. Ault.
All the pictures (like all pictures on VVV) are clickable if you want to see them full sized.
Tags: las+vegas+country+club, uncle+jack, jack+levine, edmond+b+ault, julian+gabrielle, irwin+molasky, nate+adelson, harry+lahr, moe+dalitz, jow+w+brown, marvin+kratter
.