I probably butchered the meaning of "Dog Days" but there's 3 stories that popped up between last night and this morning.
First, I rescued a dog this morning at 6:30 near Oakey and 8th Street. He's a kind of maybe collie/Sheppard mix, or a breed I don't recognize. He's good with the beagles, but real skittery about people. We've called animal control, and he'll be at Lied as soon as they get here.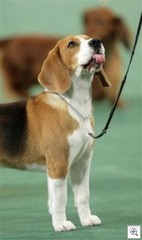 Second, and the story I was going to write last night, is about UNO the wonderdog. Uno is the first Beagle to win the hound group at Westminster Dog Show since 1931!
Since I'm a beagle collector and passionate enthusiast, I begging you all to cross your fingers and toes for Uno to win best of show tonight!
GO UNO!!!!!
Uno looks just like my littlest beagle Maggie, who's on the left in the picture below. Until we started Very Vintage Vegas, I was using this picture in some of my advertising.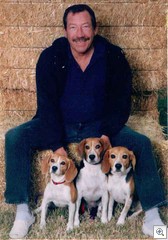 Third: It's been a year since the massive parvo outbreak at Lied Animal Shelter. Channel 8 reported this morning on the success of solving the problem and and the ongoing educational efforts to get pets spayed and neutered. (I'm still looking for the video, and will update when I find it.)
There's 50,000 animals a year who pass thru Lied. About two thirds get adopted, and it breaks our hearts that the ones who don't have to be put down. Slowing the intake rate is the only solution. I reported on my visit to Lied Animal Shelter as part of the Citizens Leadership Academy back in October.