Kirsten Peterson of The Sun nails it again in telling why this is SO important to the future of Cultural Tourism, and Historic Preservation:
We casually reported about the La Concha last week, but the Sun Article really tells the full story. There's a great video embedded in the story. Please read it and watch the video.
"I thought, 'This is really difficult. How do we do it?'?" says Mel Green, the project's structural engineer. "We agonized for months because it's too tall, it's too wide, too heavy."

But after all these years of bulldozing our history, neglecting the unique architecture, something had to give. That something was this conch-inspired structure that served as the entrance to La Concha Motel, built when 5,000-room hotels weren't even part of the discussion.

Neon was our visual commodity then. We were the first midcentury modern city. A city with no past. No 19th-century concert halls or skyscrapers to define us. No vast inventory of historic sites.

But now La Concha is our past.
"A love song to googie glory"
But before La Concha can take on its new role as the entrance to the Neon Boneyard on Las Vegas Boulevard North, before it can be a gift shop and museum space, the $1.5 million must be raised to fund the construction of the campus walls and administrative area that will house restrooms, offices and a studio workshop for neon restoration.

La Concha will be completed this spring. That second part of the project was to begin in the summer. But the well is dry and Phase II is on hiatus.
The NEON MUSEUM Needs Help To Finish The Restoration Of The La Concha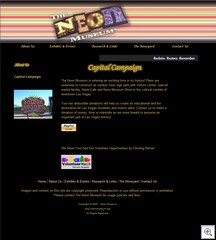 Every Penny Will HELP Tremendously!