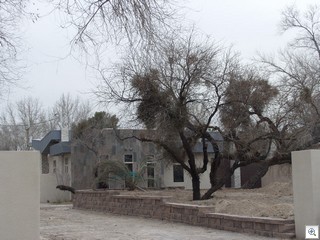 There's a whole new "cocktail house" mid century modern styled addition (or perhaps it's a whole house if the old one gets torn down) that we've been watching. I haven't taken a picture of it in about a month, but now you can see that it's a perfect mid century modern design match that will fit in beautifully in the Scotch 80's.
Click the picture. It's a thumbnail.
Scotch 80's is South Of UMC hospital. It's easiest to get into it by going south on Shadow Lane from Charleston, just a few blocks west of the I-15 freeway. Most of the streets that used to open onto Rancho and Oakey have been gated off, to avoid cut thru traffic. (Things like that happen easily when Mayor Goodman and lots of other notables live in a neighborhood).