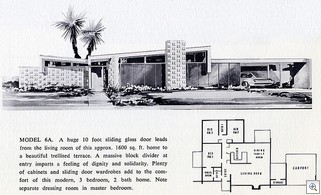 Lynn Zook's Classic Las Vegas History Blog sent me to Alan Sandquist's Roadside Pictures to look at original drawings of the Paradise Palms Palmer and Krisel drawings. All of the renderings for the Paradise Palms homes are there if you flash forward and backwards in the collection gallery, and they're all on the Classic Las Vegas Blog also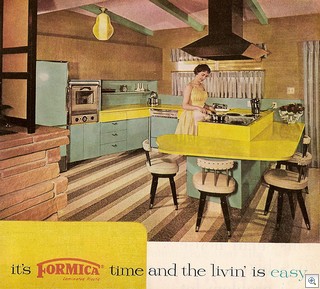 One of the people who commented on them was Java1888. He, like alan, uses flicker to store his images of all kinds of fun retro stuff. He's got 3 different collections of mid century modernism that you can browse. There's Designs, Signs and Architecture. I picked up this great Better Homes and Gardens Ad for FORMICA in his Mid Century Modern Architecture collection.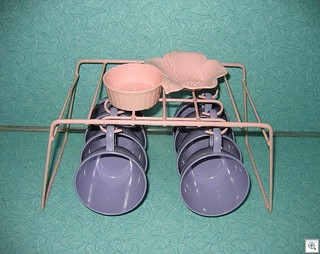 I've never played around on flicker, but one of the commenters on the formica ad, was Retro Kitchens In Aqua, Pink and Yellow! Believe it or not, This is the EXACT Aqua Blue Boomerang Formica that was in the bathroom of our 1954 tri-level in Columbus Ohio! I've never come across it in Las Vegas. I'm going to go digging into my mother's 700+– albums to see if there's perchance a bathroom picture from my childhood home.
If there is, I'll be sure to share it with you.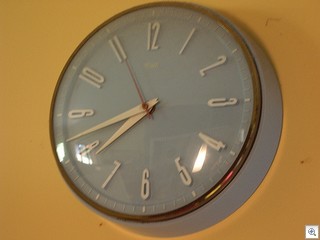 Of Course, Retropro commented on the blue formica, so we found our way to her collection including this terrific 50's wall clock.
Of Course, there were comments on it, and from them I found my way to: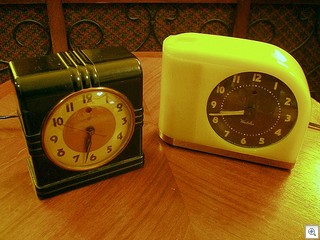 Thrift Store Addict is a majorly compulsive collector of all things Retro. Flashing thru his picture collections, I found this photo of the Westclock Moonbeam. I have one also, which I picked up at a garage sale for a dollar back in the 80's. He paid 2.99 for his. Ha Ha!
Well, that's enough RETRO for one day. Retro is a word I rarely use, but since I'm refining my "elevator speech" it's a word that I should start to use more often.