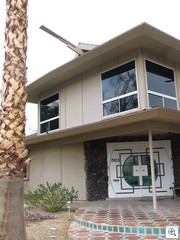 Yesterday I mentioned the yard art which is now prominently on display at a Tiki Styled Home in Beverly Green. Of course, someone asked me about Tiki, so I'm compelled to show some other examples from the Vintage Vegas Neighborhoods and to talk a little about the subject.
One of the great examples of Tiki influence is on the "Jackie Gaughan" house on Chapman, at the corner of Bonita. It also sports one of the few pairs of round doors in all of Las Vegas.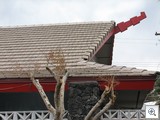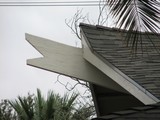 The "Jimmy The Greek" home on 6th Street South of Charleston is also Tiki Themed. Some of the prominent features are roof lines that slope upwards at the end, and beams that protrude past the facia boards, to resemble the bow of a ship.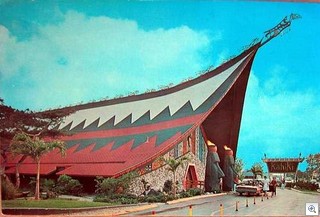 When I was a kid in Columbus Ohio, I got my first "taste" of Tiki at the world famous Kahiki Supper Club. It was renowned as one of the best examples in the world of Tiki Culture taken over the top.
Alas, it's a Walgreen now. Oh Well, so much for historic preservation.
Wikipedia has an article on the whole subject of Tiki culture in the United States
"Tiki Culture began in 1934 with the opening of Don the Beachcomber, a Polynesian-themed bar and restaurant in Hollywood. The proprietor was Ernest Raymond Beaumont-Gantt, a young man from Louisiana who had sailed throughout the South Pacific; later he legally changed his name to Donn Beach. His restaurant featured Cantonese cuisine and exotic rum punches, with a decor of flaming torches, rattan furniture, flower leis, and brightly colored fabrics. Three years later, Victor Bergeron, better known as Trader Vic, adopted a Tiki theme for his restaurant in Oakland, which eventually grew to become a worldwide chain.[1],
When American soldiers returned home from World War II, they brought with them stories and souvenirs from the South Pacific. James Michener won the 1948 Pulitzer Prize for his collection of short stories, Tales of the South Pacific, which in turn was the basis for South Pacific, the 1949 musical by Rodgers and Hammerstein, also a Pulitzer Prize winner. Hawaiian Statehood further drove interest in the area and Americans fell in love with their romanticized version of an exotic culture. Polynesian design began to infuse every aspect of the country's visual aesthetic, from home accessories to architecture."
It's also easy to spot a touch of tiki in the Cinderella Ranches on both the east and west side neighborhoods of Vintage Vegas.
Of course, if you want to learn more, or to join a revival movement there's the Tiki Magazine or just google Tiki, and spend a few hours sipping a Mai Tai while getting educated on a major cultural phenomena of Post War America
PS: The outcry was huge in Columbus when the Kahiki was torn down to become a Walgreens, but the powers that be, and the big money wouldn't listen. Another drug store was much more important, it seems.
We have lots of stories here in Las Vegas about our lost heritage, history and architecture. That's why we're so hell bent on preserving the Huntrudge, Maude Frazier Hall, La Concha, and what little is left that's worth fighting to preserve.
Join Us. Get involved with the Atomic Age Alliance, or Classic Las Vegas, or the Neon Museum or any of the other museums in Las Vegas. We need your help, and you'll meet some remarkable people.