Thanks to regular Reader Zane D. for sending us this story.
Recyling The Past is a company out of NJ that found this great stash in an old warehouse.
I wish we had a company like this here in Las Vegas. Explore their site, and especially the glossary. There's a wealth of information.
This is the link to the story and pictures of each individual sink in this new discovery. Now you know why I showed the bathroom sink in one of the photos about the Maria Elena Mansion Repo that I published yesterday. I absolutely love 50's and 60's bathroom fixtures! I'm doing mine over with a sink and toilet and urinal that we salvaged from the old Chamber of Commerce Building on Sahara. At least these sinks have never been used!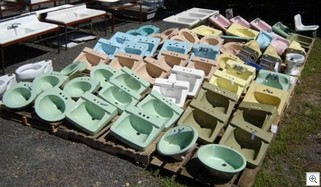 Here at Recycling The Past every once in a while we find some truly hard to find treasures like our recent shipment of sinks and toilets in original manufacturer crates and boxes! Essentially all these great plumbing fixtures date from the late 1950's to early 1970's and have never been installed. In fact, the first time they've seen the light of day was when we opened the boxes here at our shop. These factory direct condition sinks have been sitting in a warehouse for over 30 years untouched. It is our pleasure to offer our loyal customers the opportunity to own one of these great treasures. We must have really lucked out, because they are not "average" sinks, rather they are manufactured by Crane Plumbing of Chicago. Crane was started in the early part of the 20th century by entrepreneur and statesman Charles Crane. Charles was actually the ambassador to China at one point and was said to have refined his skills of making Vitreous China directly overseas. The company was founded to offer only the highest quality porcelain and cast iron plumbing fixtures available. The premise was to mass produce sinks of a higher quality than the more readily available sinks manufactured by American Standard, or Kohler. Check out our inventory here online and see the many cool styles and even cooler colors we have available.