Some of this is reminders, and some of it is new, but there's a ton of stuff going on in the next few days in the URBAN CORE OF LAS VEGAS.
THURSDAY: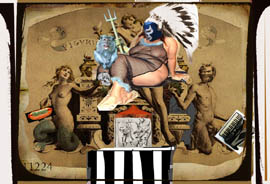 Let's start with the Contempory Arts Collective opening THURSDAY NIGHT of "MIDWAY" from 6 to 9 pm in the Arts Factory at Main and Charleston.
They've converted the space into a reproduction of the Coney Island Board Walk. Performance, installation and paintings based on Coney island iconography .
Artist: Aaron Sheppard
Opening Reception and Extravaganza w/Favy Favela, Thu, May 1st, 6-9PM
I'm told by Paco and others that it's a "Must See". It can also be seen Friday night at First Friday.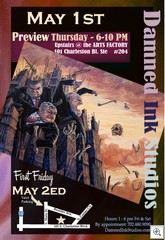 Also upstairs in the Arts Factory, our favorite artist in all of Las Vegas is unveiling some new paintings to Las Vegas. They're hot from his recent show at M-Modern Gallery in Palm Springs. Check out Danny Roberts and Damned Ink Studios also from 6 to 10pm.
FRIDAY
Friday, of course, is FIRST FRIDAY in the Downtown Las Vegas Arts District. If you've never attended, you're missing quite the event. This month things will be extra busy and extra hectic.
Simultaneously, the Gay Pride Parade will be at 8 pm on 4th street north of Charleston and ending at the Fremont Street Experience.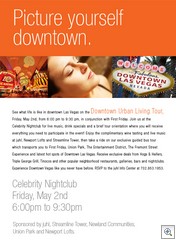 Some of us will be doing the 6pm party and bus tour of downtown redevelopment. It begins at 6pm at the Celebrity Night Club at 3rd and Ogden with stops and viewing of the models at Streamline Condos, Juhl Condos, Newport Lofts, and Soho Lofts, as well as the Union Park Development that we mentioned yesterday.
If you're more into HISTORY than crowds and parties and sightseeing, then try the CLASSIC LAS VEGAS panel discussion on the History of HELLDORADO at the Springs Preserve at 7PM (admission $12.00).
SATURDAY:
Gay Pride Festival at the Clark County Government Center 12 noon to 8pm
Preservation Association of Clark County meeting at 11am at the Morelli House.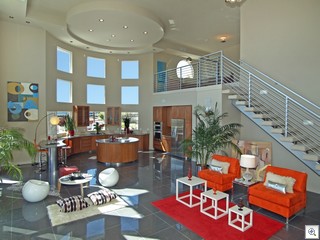 Public Grand Opening and BarBQue at WOLFSON LOFTS from 12 to 3. Mayor Goodman cuts the ribbon at 1pm
PEDAL-PHILES downtown bar crawl ON BICYCLES begins at 6:45 pm at the Arts Factory.
Playwright and automobile hater Ernest Hemmings (of Test Market Theatre) (AND OUR NEWEST DOWNTOWN NEIGHBOR) invites everyone to "subvert the dominant paradigm" by joining him for the monthly Pedal-phile bicycle pub crawl.
This cycle pub crawl started with 4 people, and I happened to catch a picture, when I ran into them not knowing it was going to be a growing monthly event. It's grown every month since then.
SUNDAY:
Friends of Classic Las Vegas Monthly meeting 2pm at Nevada State Museum in Lorenzi Park. 700 Twin Lakes Drive.
May 10 to 17 is Historic Preservation week. Lots of events shows and lectures and tours. We'll tell you more about the schedule next week.
May 17 is Helldorado Parade.
And I can't see straight, and hope to get back on schedule with our regular blog posting tomorrow.