A Keg Of Beer, And A Bunch Of Friends Is Not The Best Way To Get A New Roof Installed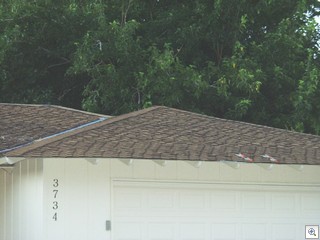 I really like dimensional shingle roofs. They add texture and color, and last longer in the desert sun than regular composition shingles.
But you do have to FOLLOW THE DIRECTIONS! That's why the kegger isn't such a good idea. Some jobs are best left to a professional contractor.
Click on the picture to see it full sized. They started out wrong and realized it about 10 courses up. Instead of starting over, they adjusted to the correct way, and then just kept on going.
It's better to start over when you realize you're doing something wrong instead of creating something ugly that you'll have to live with, or have to try to sell to someone else down the road.