Here's a little afternoon bonus.
Thanks to Will and his sister Joselin (who are under contract on a fun beamed ceiling mid mod foreclosure in Paradise Palms) for the great link. Guess what will be the centerpiece of their new kitchen?
BTW: Will's the lead singer of "Will and the Hi Rollers" a rockabilly band that I first caught a few months ago at First Friday. I'd been meaning to give the band a plug but since they did US a favor by sending the following, I'm putting the two things together.
The Big Chill is a Colorado based manufacturer of NEW Mid Century Modern Appliances. They're already selling refridgerators and dishwashers, and have a line of ranges almost ready for market.
I'm aways away from my kitchen still, but these are definately on the list!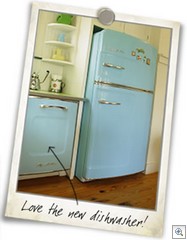 From the Big Chill Website:
Our retro refrigerators, stoves, and dishwashers may look vintage, but they come with modern functionality, efficiency and dependability. Add a bit of style and color to your kitchen with the retro appliances that have been featured in publications from The New York Times and This Old House to magazine's from the likes of Oprah, Martha Stewart and Rachael Ray…
And if you want to hear some fun Rockabilily for Will and the Hi Rollers, there's lots of there music on YouTube. Check them out Here