I recently discovered that there were names for the patterns that we've been discussing for the last 2 months. Some of them can still be obtained.
Allied Building Materials, at 221 West Wyoming has 2 of the patterns in stock.

The butterfly or clover design that was number 6 in our series is really called "LaCosta". Last week they had about 300 of them in stock. They're $4.35 apiece.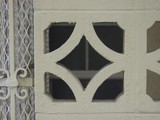 The "Cordova" which was Pattern #11 in our series is in stock at Allied. They had 51 of them in stock at the same price of $4.34 per block.
Orco Block Company in Los Angeles is the manufacturer. They still make only 6 of the patterns including the La Costa and the Cordova above. They also have the following four patterns, and Allied can get them for you.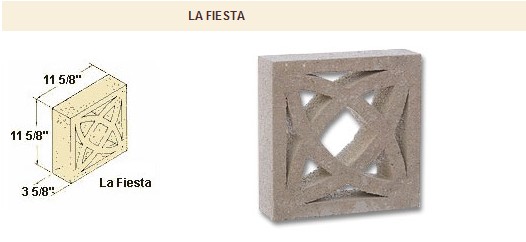 "La Fiesta" was #4 in the series, and is one of my favorites.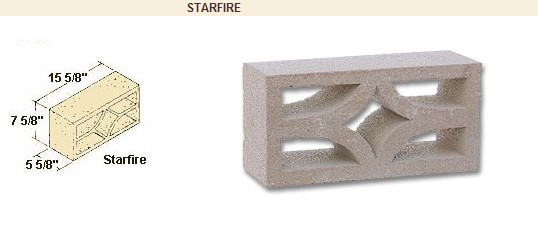 "Starfire" is real nice and seems to be a stretched out version of the Cordova.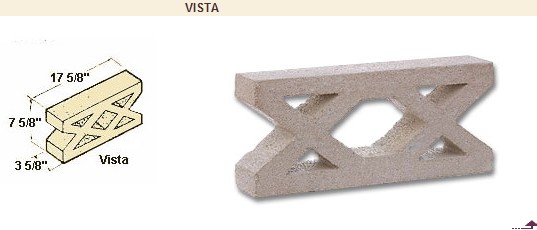 The "Vista" is also available at the big box home improvement stores, though I don't know if they get them for Orco. Vista can be found on the top row of thousands of block walls in the suburban concrete canyons.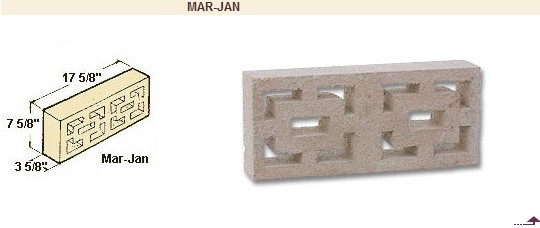 And my new favorite, which I've NEVER seen in use in Las Vegas is called the MAR-JAN. Ther's a similar suspended square in a single square block that was number 49 in the series. But I love wider double version of the Mar-Jan.
In one of the funny coincidences that happen to me all the time, I was in the middle of an email exchange with the sales manager at Orco when an email came in from Zane Donaldson. Zane sent the link to the lecture by Bill Krisel. At literaly the same moment that the Orco guy told me about Angelus Block, one of his competitors in LA, Zane sent the link and attached file with the block designs from Angelus.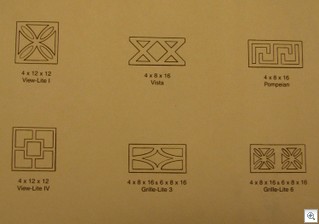 Bill Krisel mentions Angelus Block as a primary supplier of the blocks he used in the 50's and 60's. Their website isn't as good as Orco, but I did call, and they do carry some of the same designs as well as a few unique ones.
Angelus doesn't have a distributor here, but they're a lot closer than A-1 Block in Florida, which up till now was the only place I could find at all.
So, for the more than 2 dozen readers who emailed me or left comments asking where they could obtain some of these patterns, now you have the answer. If anyone else knows of any other manufacturers anywhere in the US, I'd sure appreciate finding out about them.
That, my friends, concludes our 2 month long adventure into the "Decorative, Retro, , Historic, Mid Century Modern Block Walls and Sunscreens of Very Vintage Vegas
I thank you for indulging me, and I certainly hope it gave you a new insight into an important element of Vintage Vegas.
Just remember, when the sunscreens disappear, you've left Vintage Vegas.