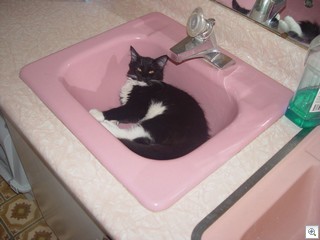 Some have black and white accents!
But it's still the all time favorite among the mid mod lovers and post war housing revivalists. Our favorite mid mod renovation blogger is Pam from RETRO RENOVATION. She's even gone so far as creating a blog dedicated to JUST PINK BATHROOMS.
I invite you to take the pledge to preserve and protect your pink bathroom.
But there's more to it than just pink ones. I've shown you hundreds of great vintage bathrooms and kitchens over the year and a half we've been blogging here at VVV. Though the pink ones seem to be the favorites, they came in all kinds of blues and greens and maroons and yellows and greys.
If you've got a great yellow or blue or whatever, I hope you'll take the pledge also. I'm sure that "pink" is euphanistic for all the great colors of 50's and 60's bathrooms.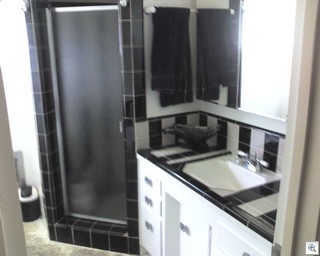 Here's my bathroom, which we painstakingly preserved thru an entire replumb and new slab underneath it all. The floors will "probably" be white 1 inch squares. Or not.
Grey and Black is the "pink" for my house, and I love it just as much.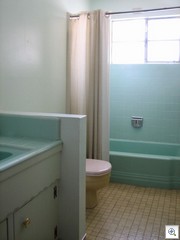 Our cinderella ranch listing at Oakey and Eastern (commercial professional) has a very unique sea foam green in the hall bath. The brown floor and toilet with a pink seat don't match, but that's easy to fix compared to finding sea foam green tile.
Vintage Vegas has one of the best collections of undiscovered colorful retro bathrooms in the country. Thankfully, most of the buyers who I'm meeting thru the blog don't automatically think these should be ripped out. I spend a lot of time re-educating those that do. I think the majority of the readers at VVV are already owners, and are deeply committed to preserving the bathrooms and kitchens. Why would anyone want a granite counter and cabinets that look like ever one elses. What we have in Vintage Vegas is precious and deserves to be kept.
We're not alone, and this certainly isn't a "Vegas Thing" as you can see at places like retrorenovation!