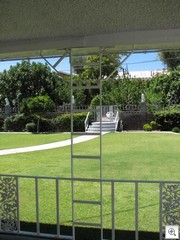 It's especially the wrought iron railings and support columns that are hiding in the backyards of Vintage Vegas that I'm hoping you'll help me to find. I know there's some terrific retro designs that deserve to be seen. Mostly the pictures that I have for this series will come from the front yard carports, and porches unless you help me out.
While showing this wonderful split-level in Crestview, I stumbled upon a ladder trellis design that frames the gorgeous and meticulously landscaped backyard.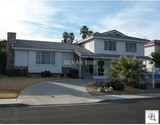 I'll take the opportunity to plug the home which is perfect for the "pink bathroom" crowd. The bathrooms are original and in excellent condition. It's a one owner home that has been loved and cared for. They've recently dropped the price to $315,000. which now makes it well worth consideration. It even has the original shag carpet, (which I love, being the retro freak that I am) which will probably need to be replaced. Other than that, it's extremely clean and move in ready. A thank you to Josephine Reising from Prudential for allowing me to share this with you. There's more pictures in the MLS Brochure.