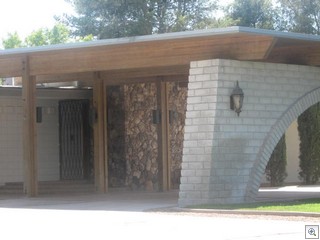 We all love the exposed beam ceilings that often are found in Vintage Vegas. Usually we see them on the insides, but occasionally, such as in this Scotch 80's home we find a porte-cochere or carport that sports it as well.
The Scotch 80's is a custom home community located south of Charleston and East of Rancho.
It's truly one of the great neighborhoods for a Sunday drive.
Bannie and Silver are two of the rare residential streets in Las Vegas that have center islands with shade trees that create a canopy over the travel lanes.
All of the homes are at least a 1/2 acre, and many Las Vegas's best examples of desert modern (or Palm Springs Modern, if you will) can be found there.
There's currently 7 homes for sale. They range from $500,000 to 5 million. However, 2 of them are bank owned, and 2 are short sales.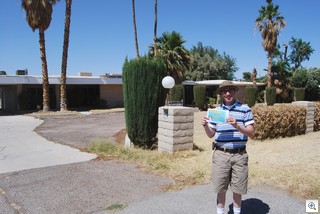 One of the short sales is the famous "Howard Hughes" house. It's one of the largest desert mid mods I've ever seen at almost 7000 sf. It's on 2.5 acres, and currently is fire damaged, which needless to say makes it a major fixer upper. It's ONLY 950,000.
The MLS PICTURES are from long ago. I know I've got a folder full of pictures of it on the old computer, but I did find this one from the history hunt that we did last summer. (If you want to take a driving tour of many of the classic, historic neighborhoods of Las Vegas, this is a good place to begin.) I'm sure Brian Paco Alvarez will be happy that I published this picture again.
PS: the history hunt is over. There's no prizes or bonuses being offered. But it's still a fun way to spend an afternoon!