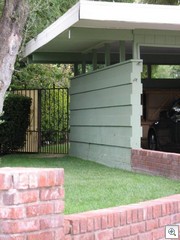 And there's support walls also. This one is 1×8 planks with an offset bias.
It's from McNeil, which is one of the most popular of the Vintage Vegas Neighborhoods.
There's actually 4 separate subdivision names within McNeil. There's no rhyme or reason that I can see, as to which streets are in McNeil Park or McNeil Estates or McNeil Manor or McNeil Tract. Therefore we lump them all together to just call this gorgeous neighborhood "McNeil"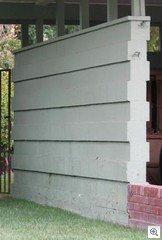 .
All of the homes were custom built. The developer merely cut up and sold off the lots. There are a few duplicate houses where one builder built the same home on a few different lots, but in general, each home in McNeil is unique and custom.
McNeil runs between Charleston and Oakey to the west of Rancho Drive.