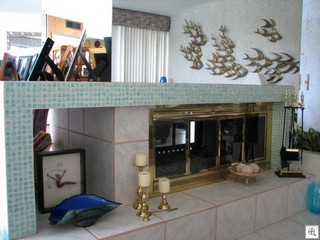 See thru fireplaces that act as room dividers are a common element in the Mid Mod homes of Las Vegas. This one in particular is just spectacular! One side opens into the step down living room, and the other side opens onto the family room and dining room.
It's mirrored on all 4 sides, which helps to create the illusion of massive space and openness. It's bordered by the one inch ceramic tiles that are so popular once again, even though these tiles, like almost everything else in the home is original.
In the next installment, we'll see some wider angle views that will take your breath away. And eventually we'll tell the story about the school of fish that you're seeing in the mirror.
We're marketing the home only to Jack LeVine of Keller Williams Realty's VeryVintageVegas readers. It's not on the MLS. If you're a serious mid mod fanatic, and able to look in the mid 500's, give me a call. Have I got a house for you!
Scroll down thru the last 2 weeks of posts to see the previous entries about the home, or click the individual links for Part 1, Part 2 or Part 3