This is an ongoing series that will probably last for another year until we divest ourselves of the excess inventory of foreclosed homes.
Some of the foreclosures are just purely junk. There's no original features left. The architectural or design character, charm and uniqueness has been stripped away, or abused beyond salvation. When there's fun interesting, amusing, or charming original features, I take pictures for this series, and more importantly, I put it into my brain as a home worthy of one of my clients. I don't just find homes for my clients, I'm also working diligently to find the right buyer for a home.
I'm of the opinion that the banks are listing them at rock bottom prices, and they're accepting offers at or slightly below the list prices. Sometimes there's multiple offers, and the sale price is being bid up higher than the list price. That's my best gauge of the market. It's happening more and more often now. I'm also for the first time seeing the banks actually accepting more short sales. I've totally ignored and poo-poo'd them in the past, but am starting to pay attention to them now.
It's interesting, and fulfilling to note that the words classic, vintage, retro, and historic are showing up in a lot in other agents listings. It's also amusing when I see remarks such as "old home in old neighborhood". Most of the agents still don't "get it", but we're definitely making progress!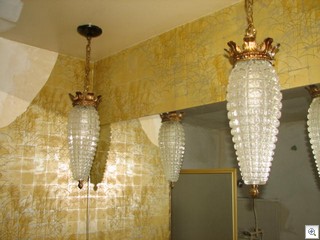 I'm out looking at the foreclosures (as well as the nice, well loved homes) almost everyday. Sometimes I'm out scouting, but usually I'm with a buyer. To get to ride around with me, you have to be pre-qualified, and ready to buy. You have to know yourself and your finances well enough to know how much of a fixer your willing to buy. Some of the foreclosures are in extremely poor condition and need a complete rebuild. Others just need paint, flooring, landscaping or cleaning. Rarely are they move-in ready.
There's an on going pipeline that flows along with the process. Every buyer is somewhere along the path, and each buyer has their own time line and agenda. Each transaction goes thru the steps of qualifying, searching, negotiating, paperwork completion, escrow opening, inspections, appraisals, loan underwriting, final signings and closing. I'm always at some point in the process with each of my clients. One of the most important things I do, is to coordinate the process thru each step.
Yesterday, a regular reader asked if I'm TOO busy to take her on as a client. I didn't think that yesterday's post suggested that, but she was afraid I don't have time to help her also. Nothing could be further from the truth.
I'm doing the preliminary consultation with her tonight. It takes an hour or so. I'll explain the process. We'll talk about the options. We'll figure out a time line and schedule. We'll make sure she's working with a GOOD lender. We'll talk about the neighborhoods and the areas of Vintage Vegas. We'll explore whether we'll be looking for fixers or already nice homes, and what size and shape and features will be right for her.
And we'll be deciding at the end if we want to work together. Occasionally we just don't click with each other. Sometimes there's expectations I can't fulfill. But I'm always willing, at the minimum, to help a buyer explore the possibilities. Then we can go to the next step if it's appropriate.