If You Don't Get Out Of The House This Weekend…..You're A Certifiable Hermit
There's First Friday.
There's Sunday's first annual Paradise Palms Mid Century Modern Home Tour.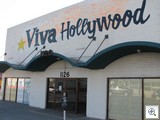 There's Friday night's  preview opening of the hottest new store in the Arts District.
There's BikeFest at the Fremont Street Experience as well as the debut show of "Born 2B Wild" on the VivaVision. Thousands of gorgeous custom motorcycles lining Fremont Street.
There's "Art In The Park" Weekend in Boulder City.
There's the Saturday night bicycle bar crawl.
There's live music everywhere.  
It's Autumn! Projected evening temperatures will be a glorious 88 degrees.
Don't be a hermit!