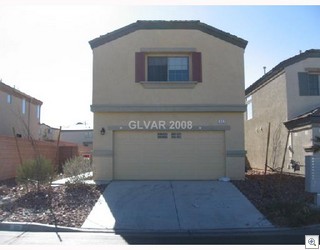 Great architecture and interior design disappeared and has been missing for about 30 years. The conformity that I often hear referred to as "cookie cutter" became the standard. The concepts of merging the inside and the outside living areas of a home got lost when the average lot size got cut in half or worse. Tuscan  heaviness and ornamentation became the norm, and it was so overdone that it became boring and pretentious.
All of that is one of the reasons there's such a renewed interest in modernism. Most of the 1950's and 60's homes that we go on about at such length here at VeryVintageVegas fall under the category of Mid Century Modernism. Whether they were "desert modern" or "ranch modern" they were still modernist. The concept of the great room has it's roots in modernism. The sliding glass door and wall of glass were vital elements of the new way of living that was exemplified in modernism. Bright sunny homes with minimal division between rooms, colorful kitchens and bathrooms, the use of natural materials for full wall fireplaces, and clean lines and lack of ornamentation became the standard during the 20 year reign of modernism.
Las Vegas is unique among cities in America. It's a new city. The first really big growth spurt started 1950 when the city only had a population of 50,000. That spurt lasted till 1970 and coincided exactly with the baby boom years. In every other major city, the baby boom happened in the suburbs. It did in Las Vegas also, but the new suburbs were were only a mile or two from downtown. I grew up in the suburbs of Columbus Ohio. Our Mid Century Modern baby boom neighborhood was 20 miles from downtown. Neighborhoods like ours formed a ring around a city that was already a million and a half people in 1950. 20 miles from downtown is  where you'll find all the 50's and 60's modernism in just about every city in America, except for this one.
The majority of the people who I've been selling homes to in the last many years bought in the urban core because that's where the modernist homes are in Las Vegas. Some of those people are purists. They insist on original 50's and 60's kitchens. Their rallying cry is "Save The Pink Bathroom!". I'm one of them, though mine is black and grey, but the term pink bathroom is merely a euphemism for all the maroon or blue or yellow or salmon or black and grey bathrooms.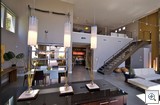 But now it's the 21st Century, and modernism as it was defined in the mid 20th century is being re-shaped and re-imagined by a whole new set of architects and designers. It's being discovered and admired by a whole new generation that grew up in the boring world of tuscan heaviness. 21st century modern has arrived in Las Vegas. Mostly it's shown up in  "loft design" living spaces. Blue Heron has done a superb job with it. The Urban Lofts in Downtown are an excellent example. With the right interior designer, even Soho and Newport Lofts get it. Personally,  I think they ought to put in pink bathrooms, but I doubt that that's going to happen. I'll settle for sleek ones with natural stone surrounds.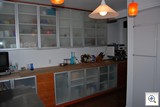 The elements of 21st Century Modernism will fit beautifully into Mid Century Modern homes. Kitchens that are being updated can look like the kitchens in the new lofts. Sleek, stylish, unadorned. They don't sell them at LowesDepot. You've got to go to Ikea or any number of other manufacturers to get them. But they work perfectly. I don't even have a problem with granite. It's natural after all. But, just not that boring grey speckle one that's in most of the homes in Summerlin. You know which one I mean. Our listing on Oakey is a perfect example of a 21st Century Kitchen in a Mid Century Modern Classic.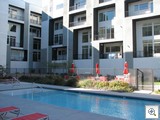 Most of my readers aren't into condo living. They're certainly not into "The South Strip". However, Loft 5 has reopened and are practically giving away their lofts. They're about 1/2 price of what they first sold for before the mortgage crash caused almost all of their sales to fall apart. The whole complex is now bank owned, and they're literally giving them away. Every unit is between 279k and 379k, which is less than they cost to build them.  
I only mention it because the designs exemplify everything I'm talking about, (and if you buy one I can represent you, even if they're not in a historic neighborhood!). Did I mention they're offering to pay the closing costs and 2 years of the HOA? Ok, I managed to turn this post into an advertisement…. but seriously, they're worth considering if you're purely modernist design oriented, and they'd make excellent rental properties at those prices as well.
I'm hoping we'll see a lot more blending of 21st Century and Mid Century Modernism in the classic homes of Las Vegas. After all, Pink Bathrooms aren't for everyone, and neither are condo lofts in the suburbs.