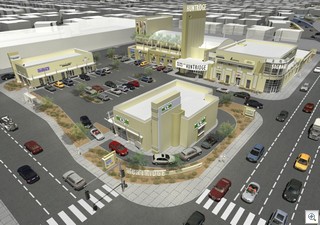 The adaptive re-use plan for the Huntridge Theater will go before the Las Vegas City Council on Wednesday November 19th in the afternoon session. It will be the 6th item to be heard (item 86–88), so it should come up fairly quickly after 1 pm.
If you're available to attend, we'd like to have as many bodies there in support of the plan as possible.
If you're new to VeryVintageVegas we've been covering this story for months. Here are the links to some of the past posts that we've done on the subject.
In the announcement of it being presented to the Planning Commission, I wrote:
The Save The Huntridge committee is endorsing the plan. We certainly recognize that there are those of you who hoped that the building could remain a theater, but it's just not possible.

We've gladly compromised to allow that at least the building, and the name marquee and the tower will be saved. Under the current economic conditions, and the enormous competition that exists in Las Vegas with the abundance of casino owned venues, it just isn't possible to keep it as a theater.

The plan should foster a new life for the corner of Charleston and Maryland Parkway. Most everyone I have spoken with is excited about this renovation and we have an opportunity to go before the City in support of this project. If you can attend, we'd be happy to see you there.
When we presented it to the public in August, I wrote:
I'll let the drawings speak for themselves, but I do want to point out that the new plan saves the entire structure as well as ties it into the old furniture store and the old post office. The Marquee, and the monument sign and the barrel roof all gets preserved, and the entire new project will be in the Art Moderne Style that was designed in the 1940's.