Hubble Smith reports in the RJ yesterday that "Housing analyst predicts Las Vegas may be among the first to emerge from slump".
There's so many factors playing a hand in this that truly none of us knows what's what. I know when I watch talking heads on TV blather on and on that they don't have a clue either. I've been saying for months that with the revival of interest in Mid Century Modern; The urgent desire to reduce commute time and costs; and the desire to live an urban vs. suburban life style, that I believe that Vintage Vegas homes will even lead the upturn when it starts. When?
I'm certainly in agreement with Larry Murphy, who I've know since I got into Real Estate, when he was quoted in the article:
I'm mostly selling foreclosures or at least homes that are listed as if they were bank owned. We do have to absorb that inventory, and to my knowledge there aren't any "new" homes in Vintage Las Vegas. We've been seeing homes priced at much below the cost to build new, or in the case of most of the homes in Vintage Vegas, at considerably below what it costs to buy and fix up in relationship to the well loved and cared for homes. That I think is the answer to yesterday's question. The big problem, is that really broken and abused houses rarely are eligible for an FHA insured loan. FHA loans are the easiest to get, and are being used by the vast majority of buyers.
However, FHA has a "livability" standard that requires things to be working. Windows can't be broken, flooring intact, no holes in walls and a lot of items. The standard is supposed to be that a buyer could move in and live there for a year without HAVING to spend a dime. Cleaning doesn't count, of course, as dirty IS acceptable.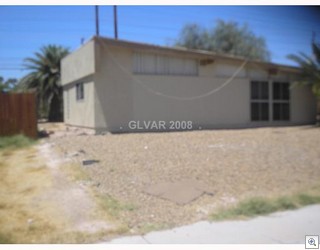 We just cancelled on a deal yesterday where we TRIED to get the bank to go along with making 2 serious repairs so that it the house would be eligible for an FHA Loan. No luck. That house by the way, is a great buy at 99,000, and now that we've alerted the bank to the bad roof and the dangerous electric panel, they're saying "cash only" for the next person who wants to buy it.
You'll recognize it that I used the picture as a WORST MLS PHOTO OF THE DAY when it first came on the market.
After the inspection, I realized that the thing on the ground in the forefront of the picture is a piece of the roof. It wasn't there anymore when I was showing the property. That's why we do inspections.
Anyway, I got side-tracked a little, but I did want you to know that there might be some good news out there about a bottom.