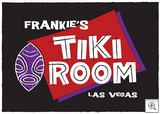 Mark Your Calandars, and please join us on Thursday December 18th from 6 to 8 PM for an informal meet and greet for readers of VeryVintageVegas. We're doing it at the all new "Frankie's Tiki Room" at 1712 West Charleston, next to the UMC Hospital.
MaryJOY, Steve, Pam, Paco, Susan and all the regulars who help me in so many way will all be there. We hope you'll stop in and meet us or say hello once again.
I'll be bringing the pizza (hawaiian, of course) and there will be a no host bar.
Moss assures me they'll be ready for their big December 4th Debut. I took a sneak peak the other day and I can tell you right now that it's hot hot hot!
Here's the press release about the opening and the creation of the first new Las Vegas Tiki Bar in many years. I'm so glad that it's right in the heart of Vintage Vegas, and NOT on the Strip.
Frankie's Tiki Room – Sin City's Only Authentic Tiki Bar – Opens Dec. 4

Las Vegas — Frankie's Tiki Room, the only authentic tiki bar in Las Vegas, opens Thursday, Dec. 4, inviting guests to experience the one-of-a-kind tiki environment complemented by traditional carvings, original Polynesian art, a full bar and gaming.
"We are very excited to introduce Frankie's Tiki Room to Las Vegas," said P Moss, owner and founder of Frankie's Tiki Room. "Frankie's offers guests a unique and authentic tiki bar experience with a Las Vegas twist. From the combination of original exotic drinks and collectible souvenir mugs, tiki statues and lowbrow art, each detail has been carefully selected to create an unparalleled environment."
From the moment guests arrive at Frankie's, they are engaged in the complete tiki experience. Guests are greeted by tiki statues and once inside, they are surrounded by lavish tiki artwork as well as the striking architecture and creativity that was utilized in designing the authentic tiki bar. South Seas exotica meets modern primitivism, Las Vegas style.
Frankie's offers a unique drink menu that features fifteen original exotic drinks including: the Bearded Clam, a tiki twist on the classic mojito; Bombora Blast, loaded with 151 proof rum and infused with a guava-based energy drink; Bender Ender, a blend of rums, pineapple juice, papaya nectar and 160 proof rum; the Mutiny, the perfect storm of vodka, melon liqueur, Amaretto, Everclear and cranberry juice and much more. Frankie's also offers five traditional tiki drinks: the Mai Tai, Lapu Lapu, Navy Grog, Pikake and the Zombie. All tiki drinks are priced at $8, along with a conventional full service bar at competitive local prices. For the collector at heart, Frankie's offers eight original souvenir tiki mugs. Each mug is unique and corresponds with an original tiki drink on the menu. Tiki mugs can be purchased for $15 each, or the drink served in the mug for only $20.
Many of the world's top tiki carvers had a hand in creating Frankie's unique vibe. The interior was designed and built by Bamboo Ben, the world's foremost tiki room designer. Other carvers who contributed their masterpieces to Frankie's include Tiki Bosko, best known locally for carving the large tikis and Polynesian statues for the Tropicana Hotel and Casino in the 1990s; Crazy Al Evans, credited for his sculpture known as "Polynesian Pop" and for creating Frankie's signature tiki, a monstrous island warrior; and Leroy Schmaltz, the godfather of all tiki carvers and recognized for creating the biggest existing tiki statue in Tahiti.
Frankie's Tiki Room is located at 1712 W. Charleston Blvd. and is open 24 hours a day, seven days a week.
ABOUT FRANKIE'S TIKI ROOM
Frankie's Tiki Room is a unique combination of South Seas exotica and modern primitivism, with just a hint of Las Vegas kitsch. Frankie's was founded by P Moss, the creator of the infamous Double Down Saloon, located in Las Vegas and New York City. One hundred percent original and deeply rooted in tiki tradition, Frankie's is the place where guests can escape to the fantasy any hour of the day or night. Whether it's ordering from the menu of exotic rum drinks and traditional cocktails in the tiki lounge, gambling at the bar, admiring the carvings or enjoying the music, Frankie's Tiki Room does it in classic Las Vegas style.
The interior of Frankie's was built by Bamboo Ben, the world's foremost tiki bar designer and grandson of Eli Headley, who created the décor for the legendary Aku Aku at the Stardust. Frankie's link to Las Vegas' tiki past also includes original carvings by Tiki Bosko, who created exotic works of art not only at the Tropicana, but also the short lived but greatly missed Taboo Cove at the Venetian. Frankie's signature tiki is a monstrous island warrior by Crazy Al Evans, surrounded by extraordinary carvings by Tiki Ray and the much revered godfather of all tiki carvers, Leroy Schmaltz. Frankie's is open 24 hours a day, seven days a week. For additional information, visit www.frankiestikiroom.com