Huntridge Theater Proposal Passes City Council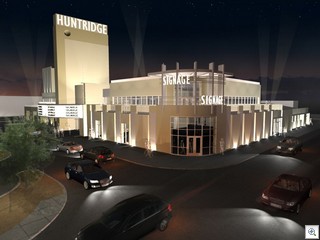 I'm most pleased to announce that the adaptive re-use plan for the Huntridge Theater has finally passed the City Council with a unanimous vote of approval today.
I've been championing the saving of the Huntridge Theater ever since the news broke that the owner was trying to find a way to demolish it in spite of the restrictions that were placed on it when it received State Funds to help preserve it.
We've covered the story from the beginning, and if you want to get caught up, you can read more here and here and here and here.
We'd like to CONGRATULATE Eli Mizrachi, the owner of the Huntridge for abandoning the plan to destroy it. He listened to us, worked with us, changed his mind and his heart and found a way to meet his own needs as well as to satisfy the historic preservation community. We believe he can successfully and profitably save the soul of the building and lead the way in a new revitalization of the Charleston Ave. corridor.
The NEXT STEP, naturally is for him to get lease commitments for 50% of the property which will allow him to get the construction financing, which let him break ground. In the meanwhile, he'll be fencing, lighting and securing the property, which was part of the agreement with the City Council in exchange for the parking and landscape variances.
Special thanks also go to those who helped with the "Save The Huntridge" group. There were dozens of supporters who attended meetings, cleaned the property during Historic Preservation Week, wrote letters, and made phone calls. To each of you, a big round of applause is in order.
The nucleus of the committee, were 6 of the most dedicated of preservationists, Brian Paco Alvarez, Lynn Zook, Pam Hartley, MaryJOY Alderman, Josh Geidel, and myself serving as the steering committee.
Planning Commissioner Steve Evans, and Mayor Pro-tem Gary Reese are also to be applauded for championing the cause in the Commission and The Council.
Our fondest hope for the future is that another dozen or two hard-core activists will come forward and help us. There's going to be a lot more projects like this in the future. If you'd like to get involved…. all you have to do is show up at one of the meetings or events or rallies and make your presence known. You can call or write me, and start a dialog. Have a cup of coffee or a drink with one of us and explore all the ways you can help. You can even find a cause of your own to champion. We'll be happy to help you in the same way.