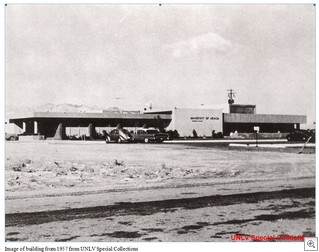 We're sad to report that Maude Frazier Hall is no more. It was the first building ever built at UNLV. We've been covering the efforts of the preservation community to save this historic building for over a year. For more background, you can go here, and here.
We held protests, signed petitions, lobbied the county and the Board of Regents all to no avail.
It's been vacant and fenced off for a few months now, and we knew it was imminent. Now it's a done deed. Today the bulldozer and the back hoe were busy at work destroying the historic beginnings of UNLV.
Classic Las Vegas has some photos of it as it was today, and I went over and took a very amateur video of what I saw.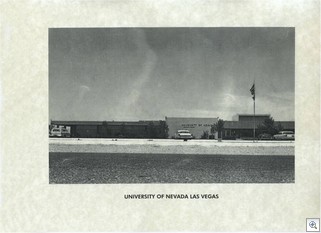 We've been doing a series on the Architecture of Walter Zick and Harris Sharp. Maude Frazier Hall was one of theirs as well.
Zick and Sharp left a massive body of Mid Century Modern Architecture in Las Vegas. Maude Frazier Hall was a classic example. Unfortunately, historically and architecturally important buildings mean nothing to the powers that be of UNLV.
Here's my still photos: