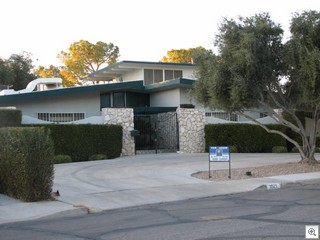 Robert Maheu was the right hand man of Howard Hughes for 15 years. He's the one who ran everything for Hughes, even though he never met him.
Robert passed away this fall. We covered it here, with the help from our friend Steve Friess who covered the estate sale on his blog. Classic Las Vegas also covered the story here.
Anyway, I thought that it would have come to market, but it's FOR LEASE instead, for $2495 a month.
It's 4 bedroom and 4 bathrooms and almost 4000sf.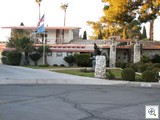 The Paradise Palms home of Robert Maheu, is right next door to the famed "Casino House" on the golf course at the National Country Club. It's called that, because it was used as the set for for movie "Casino" with De Niro and Stone.
Well worth a drive by if you've never been in the custom home segments of Paradise Palms. From Eastern and Flamingo, go north to Tioga, which is the first street north of Viking. West on Tioga to the end. Right on Cochise. The Robert Maheu home is the 2nd from the end on the west side of the street, and the casino house is next door at the end of the block. Just don't smash your Cadillac into the rear of the Mercedes. Please.