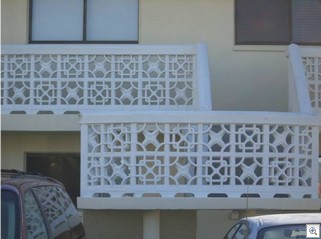 Marguerite Goswick, a regular reader from Florida sent me a mid century modern concrete block design that I'd never seen before.
If you're new to VeryVintageVegas, you might have as much fun as the rest of us did, by checking out the series that we did last summer.
We documented EVERY decorative concrete block design that we could find in Vintage Vegas. You can see the whole series here.

I seriously doubt that we missed any in Las Vegas, but since I found some unique ones in LA, and Marguerete found this one in Florida, I'm betting there's a lot more that were unique to other parts of the country.
If any of you readers outside of Las Vegas spot a pattern that wasn't covered in our series, I welcome you to also send in a picture.