It's been a year since we ran the series that documented every single decorative concrete block pattern that I could find in Las Vegas. We've acquired thousands of new readers since then (welcome to you all) so I thought we might revisit them.
I got to thinking about them, because:
A) I got two calls this week – one from Omaha and one from Orlando. Both asked me how much I charge for the blocks! This happened once before, which was amusing, but twice in one week – and a year later to boot?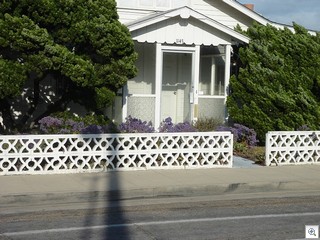 and, B) Nick Bennett, who's a regular reader and new resident of Glen Heather was in Encinitas, California this week, and he emailed me a pattern that neither of us has seen before.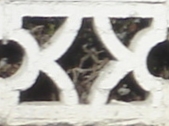 I'll be in California this weekend and will look for other patterns. Each city seems to have locally created patterns that are unique, as well as common patterns that show up in the Mid Century Modern homes and neighborhoods of almost every city.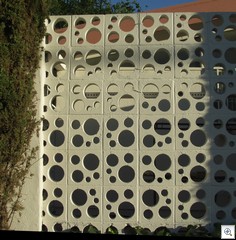 Universally – and I say this from real life experience, since I get to show off the patterns to just about every single buyer that I work with – everyone's favorite is the "Champaign Bubbles".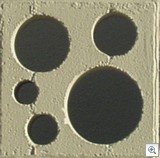 If you're new to Very Vintage Vegas and want to see the entire series, you can click this link and see them all. There's over 50 different patterns. As you drive around in Vintage Las Vegas, you'll start to notice them, then you'll realize that they're EVERYWHERE in Vintage Vegas.
If you're traveling, or are one of our many readers outside of Las Vegas, I'm inviting you to take pictures of decorative concrete block patterns that you find.