Here's a great example of the kind of email I get all the time from all around the country….
Mr. LeVine,
My name is Robin. I am construction purchasing agent for a Paramount Pictures production filming in Atlanta, GA. Our production designer has focused on a decorative concrete block design found on your website. It is the decorative block "Pattern #50 at last". Do you know of any manufacturer currently making this block design? It is the designer's choice for use in a movie set we are building for a remake of the movie "Footloose".
If you can provide any information which would help us locate a quantity (250 more or less) of these block it would be greatly appreciated.
Enjoyed your website very much.
Thank you,
Robin *****,
Paramount Pictures, Purchasing
The BIGGEST question of course, has to be "Why are they remaking Footloose"?
Back in Las Vegas…..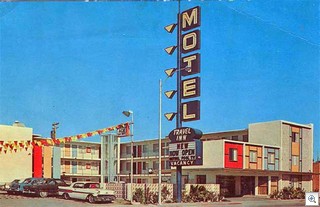 we were very happy last year that all the block form the Travel Inn Motel (just south of city hall) got rescued by my clients – Nick and Jamie. They built a new sunscreen wall from them for their new home in Glen Heather.
What I didn't know, is that they have a whole lot of them left over, and are hoping we can help them find a good home for the blocks. They'd really like to see them enhance a great home in Vintage Vegas.
They've put them on Craig's List – for a mere $3.00 each. There's about 150 of them.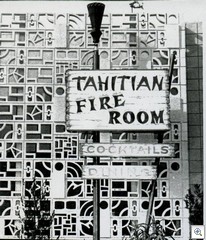 And – client Bob sent me this picture he found at TikiRoom.com
I'd love to get my hands on all of them for my collection.